I Came Here to Get Backlinks and Chew Bubblegum…
…and I 'm all out of bubblegum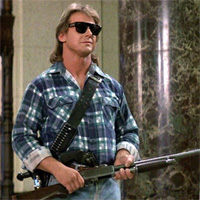 Now that you know what backlinks are you will probably need to know how to get them. If you are still not sure what a backlink is or if you need a refresher as to why they are so important for your site  take a moment to read the original post: Backlinks: Because You Were too Afraid to Ask What They Were
Now lets get to the meat and potatoes. There are a ton of different ways to build backlinks to your site, and in this post I will cover my top 5 favourite methods:
Blog Commenting
Find a few blogs that are of a similar topic/industry as your site. Subscribe to these blogs (through RSS or Email) and once you have read the posts use the comment section to add your thoughts on the article, or further expand on the topic. Most blogs will be set up to have a section to enter your name, your email address and a website. How the comments sections work is that the name you enter will become the anchor text link to your site. So in this case you would want to enter your name as the keywords as your name.
Now this method has been used quite a bit and most bloggers will delete comments where people use this method. However, if you leave a well thought out comment the blogger will be hard pressed to delete your comment.
Article Marketing
You can write an article about your topic/industry and then submit your it to various article submission sites (like Ezine Articles). Each of these sites will have an author bio box where you can write a little bit about yourself or your company, and then use your chosen anchor text to create a link to your site.
The other great benefit to these sites is that they allow other website owners to take the articles (including the author bio) and add the articles to there own site. This creates an opportunity to have others building backlinks for you.
Squidoo
This one is pretty old school as Squidoo is not as prominent as it was in the past. Even though this may not be as effective as it once was it is still a link to your site. Think of the links as a entrance to your business, and even though not many people will use this entrance it is still an entrance nonetheless.
All you need to do is type the following text into a search into Google:
"add+to+this+list"+"keyword"+site:squidoo.com
Just ensure that you change the keyword to something relevant to your website. The search should return a list of Squidoo pages that have a list section where you can add your website using your chosen anchor tags.
Directories
This one is along the same lines as the Squidoo method above. All you need to do is head to Google and enter a few of these searches below (remember to change the keyword to something related to your site)
"Keyword" + "add url"
"Keyword" + "add site"
"Keyword" + "add website"
Forums
For this tip to find backlinks you will need to head to Google to find a few forums that surround your website's topic. Usually just a "keyword"+forum will help you uncover a few forums. Once you have found a forum you need to look through a few threads and examine the signatures to see if the forum allows links within the signatures. If signatures are not allowed move onto the next forum. Once you have found a few forums create a profile and in your signature make sure you create a backlink to your website. Do not just put your anchor text in the signature by itself, you will need to form some kind of sentence around your anchor text:
Roscoe's has the best Chicken and Waffles on the West Coast.
So there you have it my personal favourites methods for getting backlinks. If you have a few favourites please feel free to share in the comments section.