Just Say No! How to Block Farmville on Facebook
Farmville. That's all I have to say and half of you get excited about sharing watering cans and harvesting crops while the other half gets cranky about the amount of Farmville crap all over their Facebook Newsfeed.
Currently I am one of those Farmville haters, I have to wade through updates of friends that are sharing their Mystery Golden Eggs and their fuel just like the rest of you.  I also know that if I added the application to my account that I would become a Farmer.  It's like crack, or smoking-you'll try it once and then you'll be hooked.  At this point I just say no like I was told to by NBC in the 80's.  Consider this my 'The More You Know Campaign' against Farmville.
In a recent post I wrote called Social Media Needs to Stop Wasting My Time I touched on a few ways to integrate your blog into your Facebook business page to save some precious time. I think not getting wrapped up in the Farmville madness is a great way to save some time in social media.  The problem we encounter here is that we cannot get away from Farmville like we got away from drugs in the 80's; Just say no, run away, and tell an adult (I'm not sure if that works anymore).  In order to keep Farmville away we need to  remove it from our vision altogether.
2 Easy Steps to Avoid the Farmville Addiction:
1. Go to the Farmville application page http://www.facebook.com/FarmVille (try to avoid clicking the 'Go to Application' button and click the 'Block Application' button.  This will stop all of the tempting requests coming from your Facebook Friends.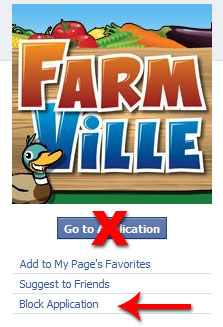 2. Go to your Newsfeed page and scroll down until you find a Farmville post made by a friend. Hover over the post with your mouse and you will see a 'Hide' button.  Click that button.


You should now be free of any major Farmville temptation, and will not fall prey to another Social Media Time Suck.  Keep in mind that these tactics will work for the other addicting Facebook games as well.
Just Say No!