Facebook Deals Are Here
Check in.  There's a Good Deal Waiting for You
Love a good deal?  Sure we all do, but the right deal isn't always easy to find at the time you really need it.  Say you've got your eye on a pair of jeans at your favourite store.  Waiting for it to go on sale could mean your size won't be there by the time it happens.  What if you were rewarded with a deal on those jeans because you shop there frequently, without having to wait? Yeah, nice eh!
Starting today, Facebook is offering Deals in Canada through Facebook Places, giving local businesses another way to engage, provide value to, and retain customers simply by enabling them to check into their location on their smartphone devices.
Finding nearby deals is easy. Login to Facebook on your smartphone, touch "Places" and then touch "Check In." Places with Deals that are nearby are displayed with a yellow or green icon to the right (see image below).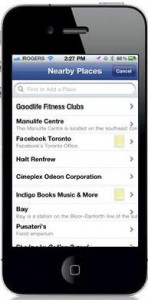 Select the Place by touching it, then you can view the deal and check in to claim it: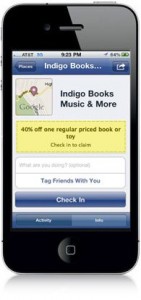 Then show your phone to the waitress/cashier/server to redeem your Facebook Deal: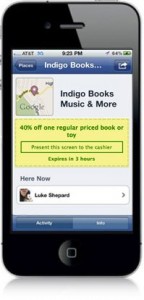 Search your favourite local stores to find out who's offering deals. At the time of writing, the only company in Victoria offering a deal is American Eagle Outfitters in the Mayfair Mall. If you know of any other local businesses offering Facebook Deals leave a comment below.