Google Loves Twitter, Facebook, Blogs, YouTube….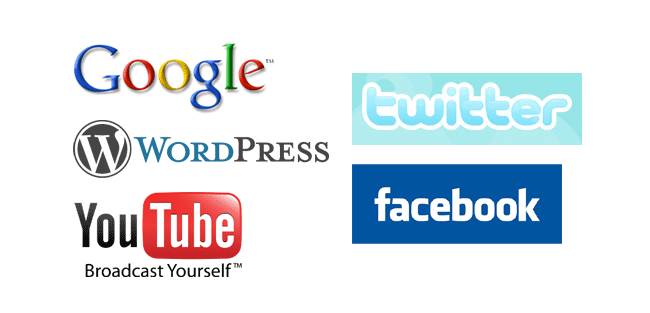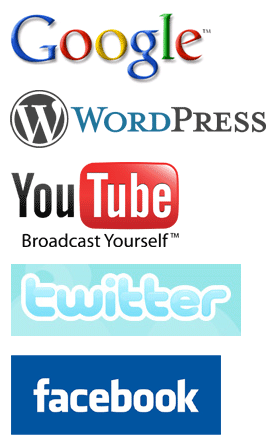 It's true. Google has a special place in its heart for Social Media. There might still be lots of people out there who don't know what Twitter is or think that Facebook is a waste of potentially productive time but Google says what it sees, and it clearly sees a vast number of people who share and find information from social media networks.
How do we know?
Google makes it pretty clear by demonstrating a commitment to social media in the most prominent place possible it can, the search results:
Blogs – Firstly, we already know that Google loves the freshness of blogs by the fact that blog posts regularly appear in the top 10 search listings, and that it assigns a lot of value to links from blog articles (see the "Nigritude ultramarine" SEO Content winner's methods for getting his site to rank highest ).
Video – Secondly, since 2007 Google has been running Universal Search Results, the integration of a variety of different results formats within the top 10 search results and, along with news feeds, photographs, and map listings, videos have been included.  The videos come from YouTube.com. Take the following example using a search for "Michael Jackson", YouTube.com videos show up half way down the page.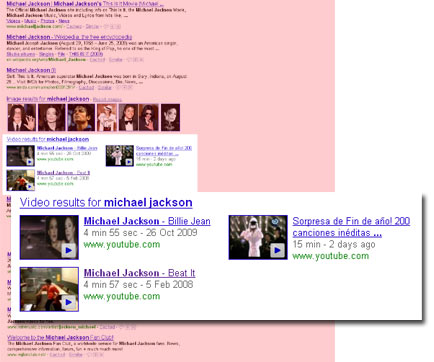 Real-time Social Media Results – Finally, just before Christmas, Google started displaying real-time results from blogs, Facebook, Twitter, and other social media platforms within its results. Under the same search for the king of pop you can see the real-time results near the top, just under the news. These results are fed into the page in real-time, in other words, the content within the real-time box will continually update without you doing anything.(Please note that your results might differ for you depending on a whole myriad of factors)
Google has partnered with the following companies in order to do this: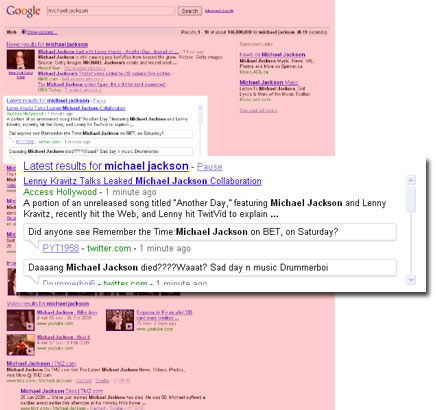 Twitter, Facebook, MySpace, FriendFeed, Jaiku and Identi.ca
What it means for you
Essentially, if you have a business website* and you're not already paying attention to social media, you need to. By taking the time to implement a social media campaign, you can increase your web exposure, and increase the chances of a visit to your website, or a phone call.
(please note that there are many, many other reasons for implementing social media that don't touch on Google. In fact, they're probably a lot more important for you. We'll cover that in future articles)
Instead of one listing for your website, you could have a variety of different listings, in different formats, showing in the search results. Potentially you could have as much as:
Web page listings
Videos
News feed
Blog post
Twitter posts
Facebook post
Photographs
Map listing
It's unlikely that you'll manage to whitewash the search results with all of these but just imagine the increased chances of a sale with just one extra listing format displayed along with your website link. In fact, attention to social media could allow you to break into the top 10 in a way that your website hasn't managed. Let's face it, a thumbnail of a video is going to stand out amongst a load of text.
To take advantage of Google's love of social media, you'll need to implement the following:
Videos hosted at YouTube.com
Blog
Twitter Account
Facebook Page
Any other social media platforms that mesh with your business aims.
Keep them updated with relevant, topical, and informative or interesting content that will bring back visitors, and the Google spider.
*if you don't have a website, you should get one, really.
Disclaimer
Of course, a poorly executed campaign could be of greater detriment to your business than no campaign at all so make sure you decide what specific goals you are trying to achieve, who you are targeting, and then plan a phased approach for doing it before jumping straight in.