What is Google's Magic Blue Arrow?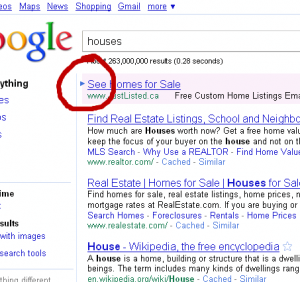 Less than a month after the roll out of Google Instant, Google has introduced a less obvious update but one that could have equally significant impact on the way we search.
The very top search result is now flagged by a little blue arrow, like a bullet point.  The reason for this identifier is that Google search results can now be scrolled through using the up and down cursor keys.  This means that you can now use Google's default search without using the mouse at all.  Once you have arrived at Google's home page, you can search, scroll, and then select a search result, all using only the keyboard.
What does this mean for Advertisers?
The little blue flag makes the top search result even more obvious, especially since many users will not know the reason for it.  This will probably result in an increased CTR (Clickthrough Rate) for the top listing. This means that:
It's now more important than ever to be #1
Since the top listing is often a sponsored ad,the presence of the arrow is likely to drive more revenue to Google who charges the advertiser for every Click-through.
Google will  derive further revenue from advertisers' higher bids as they attempt to get the top spot.
What's your feedback?
Searchers, do you find the search process improved? Advertisers, how is it affecting your web marketing and sales?