How to Make a Podcast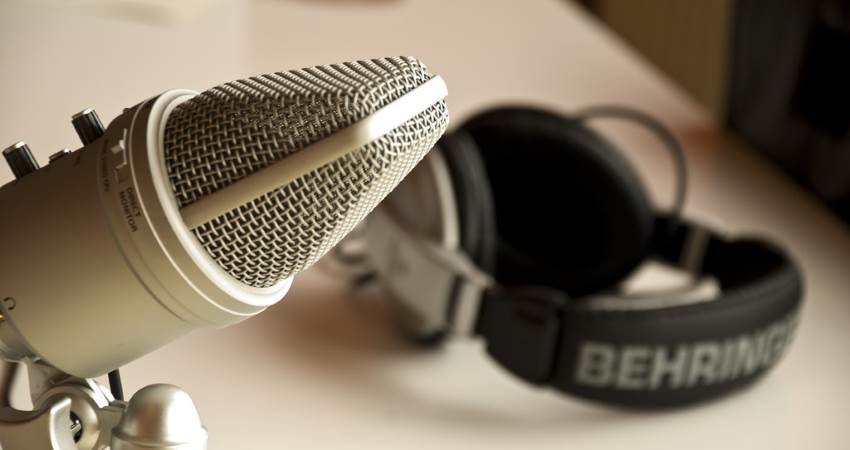 If you want to make a successful podcast, read on.
When I started podcasting, I knew I wanted it to be something special. I didn't want to have a wimpy, low-quality podcast. I was putting my name on it after all. It would show up when people Googled me. But perhaps more importantly, I wanted the podcast to be something I really cared about and loved doing.
I've learned a huge amount since starting my podcast, Twilight Histories. If I were to start over again from scratch knowing what I know now, the process would be a lot smoother. This article is my way of giving back. I want your podcasting experience to be fantastic, right from the start!
How should I pick my podcast topic?
When I started my podcast, I was trying to move into the History genre. I noticed there were a lot of history podcasts out there such as History of Rome, or History of WWII. I knew these podcasts were wildly successful. With a background in Classical Archaeology, I thought of starting a show called History of Greece. I'm sure this would have been very popular. However, I wasn't convinced this direction was in line with my end game.
My goal was to write novels. I wanted the podcast to help market my books. So what I did was create a podcast that featured my creative writing with the help of music and sound effects.
As I quickly discovered, this format wasn't a growth engine. I have watched other podcasters appear on the scene with more conventional 'History of' formats and reach dramatic popularity. The growth of my show has been much slower. It's not immediately obvious what it is from the title, Twilight Histories. It's also not as searchable, since it doesn't use a keyword phrase in the title (you can imagine 'History of Rome' will show up in organic search results).
That all being said, it has with time become quite popular and is well regarded by a loyal fan base. When I launch my novels, the podcast has an audience that is primed for those releases—much more so than it would if I had a traditional format. Even if I'd gone for a traditional format and attracted tons of followers, there would only be a loose relationship between the show and my books. A less popular yet more refined show has made a huge difference to my book sales.
The lesson is, make sure you know your end game and match the podcast to it.
How should I structure my shows?
The mother of all lessons is to make your shows consistent. Every show should be similarly structured so that the listener can expect the same quality experience each time you post.
How long should your shows be? Between 20 minutes and 1 hour is standard. If you're following a popular format, it's best to copy what other existing shows are doing.
What should I name my podcast?
I've seen a few mistakes over the years when it comes to naming and branding. One option is to name it within the provided conventions, such as 'History of Music'. Another is to give it a unique name that's catchy and intriguing, such as 'Bach's Corner'. Don't go crazy with SEO keywords in your title, such as 'History of Music Review Podcast'. It not only sounds contrived, but it's hard to remember.
How should I name my episodes?
When I started, I used naming conventions I quickly realized weren't helping me, for example, 'Show 1: Rome Industrial'. After a few shows, I realized the part 'Show 1' was completely redundant. I didn't want people to listen to my shows in order. I wanted them to listen to shows because the title intrigued them. Also, that numbering system took up a lot of valuable title space. I ended up dropping it down to 'Rome Industrial'. This might not be appropriate for your show.
How much preparation should I do?
Most podcasters I see appearing on the scene jump in too early. They don't buy a good microphone. They don't bother editing out their ums and ahs. They read from a script with errors. They use a boring monotone voice.
I've been coaching one of my listeners and have watched him painstakingly go through the process of creating his own podcast. He bought a good microphone. He wrote and re-wrote his scripts. He asked lots of questions from podcasters who are successful. He's spent months preparing, and when he finally launches, I have little doubt he'll be a hit. You should do the same.
When should I launch?
I had the problem of stalling. I waited two years before finally launching my first show. While I'm glad I used that opportunity to create something really special and unique, it almost got to the point where I recognized I was stalling. I was making excuses not to start.
If you find yourself at the point where you've got everything you need and at the quality you feel is adequate… and you're stalling… head these words. Just do it!
When you first start, you'll probably be excited by the ten downloads you see in your first week. You don't want to lose your fans by messing around with your shows and format. However, I'd say don't worry too much. This is the time to experiment and tidy things up. In a year from when you start, you'll likely have between 2 and 10 thousand subscribers. Experiment now and in a year you'll have a great thing.
What microphone should I use?
If you want a decent entrance level microphone, the Blue Snowball USB Microphone is not bad. I know many podcasters who use this, such as Jamie Redfern from the History of Hannibal podcast. For a bit more money, you can get the Rode Podcaster USB Dynamic Microphone. This is what I use for my own shows, and I highly recommend it.
What software should I use to record?
If you're on a Mac, Garage Band will do fine to begin with. There are a few annoying things about Garage Band which just aren't there in professional software like the ultra-slick Adobe Audition. That said, Garage Band is a fine place to start.
If you're on a PC, there is some free software available such as Audacity. This is a bit antiquated and takes some effort to figure out, but it does the trick.
Where can I get good intro music for cheap?
Browse through Audio Jungle. The music is very inexpensive and there's loads of it.
How about the voice actor for the introduction?
Try Fiverr. You can hire a voice actor for $5. You probably aren't going to get the quality or enthusiasm of a professional voice actor, but you might be surprised. For $5, you can get a 30 second intro that will do you just fine to start.
How about the artwork for the podcast?
Your best bet is oDesk. Browse through their contractors and find one with a portfolio you like. The dimensions are 1400 x 1400.
How do I record interviews over Skpye?
Most podcasters use Call Recorder.
How do I get my podcast on iTunes?
There are plenty of syndication feeds out there. Liberated Syndication is the highest quality I've seen.
What if I want to host the podcast myself?
You can host your own podcast and syndicate it to iTunes. Be aware that this involves purchasing a domain and hosting, building a website, installing a plugin and properly configuring it, uploading your shows into your website through something called FTP and then going through the steps with iTunes to get your podcast feeding properly. Instructions to do this would involve a long article in itself.
What's the advantage of hosting myself?
With a syndicated feed, you are relying on another company to manage your podcast. If that company goes out of business, or if they simply stop supporting or updating their software, there's nothing you can do about it.
Hosting it yourself means it's yours. Your podcast is completely under your control. If you have a reliable hosting provider and you know something about web sites (or have a web company that can help you), you're in a good place.