The New Improved Twitter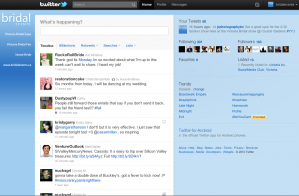 Have you seen the new Twitter yet? If not, you're in for a treat, and it's about time.
I've been telling clients for years that "if you're using Twitter's web interface you're only getting about 25% of the overall value & functionality of Twitter".  This new interface brings that up to a solid 50%.
Here's a brief rundown of the updates from Twitter:
New design. The site has a cleaner timeline and a rich details pane that instantly adds more impact to individual Tweets while still maintaining the simplicity of the timeline. And, experience infinite scroll — you no longer have to click "more" to view additional Tweets.
Media. Now, it's easy to see embedded photos and videos directly on Twitter, thanks to partnerships with DailyBooth, deviantART, Etsy, Flickr, Justin.TV, Kickstarter, Kiva, Photozou, Plixi, Twitgoo, TwitPic, TwitVid, USTREAM, Vimeo, yfrog, and YouTube.
Related content. When you click a Tweet, the details pane shows additional information related to the author or subject. Depending on the Tweet's content, you may see: replies, other Tweets by that user, a map of where a geotagged Tweet was sent from, and more.
Mini profiles. Click a username to see a mini profile without navigating from the page, which provides quick access to account information, including bio and recent Tweets.
These are all positive improvements and for newbies without a lot of followers the Twitter UI is a great place to start. I don't know if it was part of the new UI rollout but I also like the "Send a direct message" button in the DM emails you receive. I don't recall seeing that before.
What's still missing:
Columns (mentions, lists, searches, etc)
Scheduled tweets
Integrated link shortener (I can't believe they haven't acquired bit.ly yet)
Built in stats
I could go on but what's the point…
The implications:
all those beautiful Twitter backgrounds may now be getting cut-off by Twitter's new wider UI
I didn't realize at first that "Messages" link up at the top meant DMs (Direct Messages)
they talk about it being "easy to embed photos and videos directly on Twitter" but I can't see how you do it
Bottom line: I like the changes but it won't get me to use the Twitter web UI any more than I already do, which is rarely.  Don't worry Hootsuite, I'm not going anywhere.
But that's just me. Let's hear from you. What do you think about the new improved Twitter user interface? Use the comments box below.