Using Klout to Reach Business Goals Part 2
It has been a few weeks since I did an update on using Klout to achieve a business goal so I thought I would take a few moments to spread some wisdom and findings.
Since the last post we have successfully moved our Klout Classification from an Explorer to Activist, which is one step closer to our classification goal of Specialist. In the end all that really comes from this Classification is the fact that it gives you an idea as to how you are using Twitter, and if what you are doing matches your end goals.
In order to have our classification change we had to make some adjustments to the way we used Twitter. As in the last post I decided that we would like to be a specialist so that we can show our knowledge of using WordPress (and then use this specialist status to hopefully pick up a lead.) We achieved this by doing the following:
Participate more in conversations about WordPress as a Content Management System.
Create and Retweet more content about WordPress as a CMS
Follow and engage Twitter users that are actively sharing content mentioned in point 2
Follow and engage Twitter users that are following Twitter users mentioned in point 3
Now the next step is to review the other data that Klout shares with us so we can streamline our usage to meet our goal. On your profile page there are 3 tabs at the top, we have focused on the Klout Summary so far but now we will look at the Score Analysis, more specifically the first section called Klout Score.
Klout Score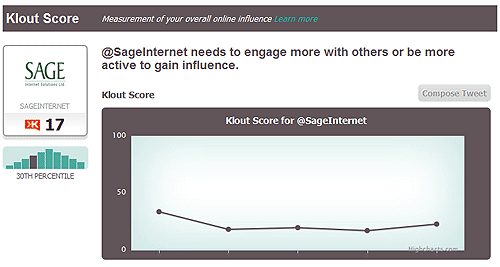 As stated by Klout this section is a "Measurement of your overall online influence" and off the bat Klout gives you a bold statement of how your Twitter account is perceived. For Sage it states:
@SageInternet needs to engage more with others or be more active to gain influence.
Perfect, so now we know exactly what we need to do. We need to engage with others in order to gain influence. In changing our classification over the past few weeks one of the steps we set out was 'follow and engage…" What Klout is telling us that we didn't quite hit the engage part good enough. For now we will continue to along the Twitter path using the steps outlined above and we will focus a bit more on engaging.
Take a look at the statement for you Klout score, and try to follow any advice that it may be dispensing. If it is telling you that you are awesome, then just keep up the good work.