Get a Life -Social Media is Making People Anti-social
"Social media is making people anti-social". Have you heard that one before? Or how about "…get a real life".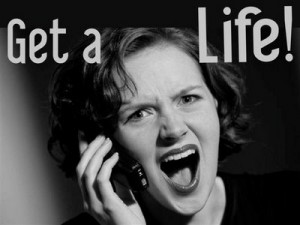 We've all heard it at one time or another. Usually such statements come from people who have never used Facebook, Twitter or blogs. I've had two close friends say something along those lines recently. Both are well educated, regular guys that for whatever reason never got into social media. They honestly think that some people using sites like Facebook or Twitter are hiding from real life, or living vicariously through their computer monitor.
Will You Be My Friend
I was only too happy to set them straight. While there are certainly some people that go on tweet binges at the expense of a social life, the majority of us are increasing our social activities through the use of social networking tools. According to a recent study by ExactTarget nearly half of Twitter users surveyed said they were meeting more people in person due to their use of Twitter.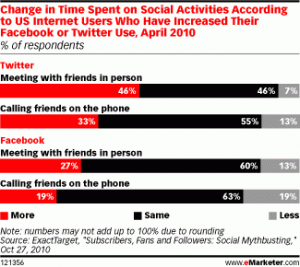 That has certainly been my experience as well. Twitter use hasn't necessarily lead to an increase in my getting together more often with existing friends, but I have definitely met a lot of people through Twitter that I know I would otherwise not have met. In the last year alone I have met hundreds of tweeps, in real life (IRL), earned the business of a few as clients and made a heap of good friends.
See You at the #Tweet-Up
Many of these people I met at Tweetups and / or the Victoria Social Media Club, two more things that produce a sideways grin on the face of non SoMed users. I have to admit that I attended my first tweetup with a modicum of trepidation, thinking I might be surrounded by "propellor heads". Turns out it was no different than most other networking events. Now there are regular monthly tweetups at various places in Victoria. Just another way that social media is actually bringing more people together more often.
Your Turn
What has your experience been? Are you getting out more often, meeting more people, socializing? We'd like to hear from you.