Making the Most Out of Facebook Advertising
Now I cannot take credit for this idea, this honour goes to Brad Gosse. I will however share it with you as I think it is an important bit of information for anyone thinking of cooking up a Facebook Marketing campaign.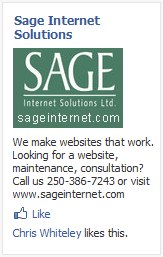 Facebook advertising is usually used as a Pay Per Click medium, but can also be used to get your brand name out there. For example Brad suggests that when creating a Facebook ad, put your website, phone number or both in the ad. This could reduce the number of ad clicks (saving you money) and have more people call you or remember your web address.
For example this is an ad that we could run for Sage Internet promoting our web services. It has our URL in the image as well as our phone number and URL in the text. This is something that can be completed very quickly and be very cost effective for promoting your brand through Facebook.
For a bit more detail check out the video that Brad put together discussing this and a few other points:
For all of you that are keen to learn more about promoting your business through Facebook we are putting on a hands on workshop that will help you get started marketing through Facebook that you cannot afford to miss.