New Interface launched in WordPress 3.8 Update
WordPress 3.8 has been released! Both the 3.7 and 3.8 versions began development in tandem, but had very different goals – 3.7 gave WordPress a large number of code and function updates, while 3.8 focuses on visual appeal.
Code Name "Parker"
The main goal of WordPress 3.8 (codename "Parker", continuing the jazz musician release name tributes) is an overhaul of the admin-side interface. The new MP6 administrative theme provides visually beautiful, mobile responsive interfaces with clear and readable typography. While the default admin theme is quite contrasting, users now have the ability to select different color themes to suit their personality!
Visually Redesigned and Responsive
The admin area hasn't had a major visual update since WP 2.7, so it's definitely time for a redesign. The responsive design aims to solve four problems with the current design: higher contrast for better visual identification, use of the Open Sans typeface for increased readability, improved Dashboard customization to make the site more useful at a glance, and a redesigned widget configuration area to decrease confusion. According to UI/UX designer Mel Choyce (who is on the MP6 team), the overhaul is a "movement towards modernity".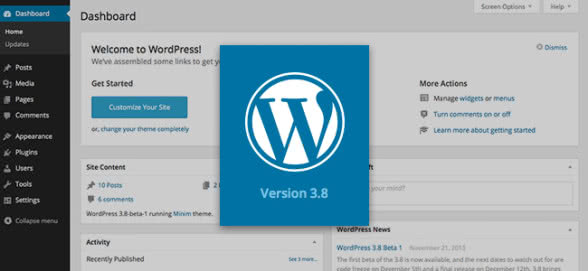 Dashboard Updates
DASH (the Dashboard update) introduces several changes in an attempt to clean up the interface:
"WordPress Blog", "Other WordPress News", and "Plugins" widgets have been combined
Renamed "QuickPress" to "Quick Drafts" to put the emphasis on drafting ideas before publishing
Merged "Recent Comments" into the "Activity" widget to display scheduled and recently published posts
Removed the "number of columns" screen option and turned the space into a responsive area that looks good on any screen size
Reduced the size of the "Right Now" widget
This DASH update aims to improve the user experience when people first log in and is headed in a great, user-friendly direction.
Theme Selection Interface Updates
Also included in the update is THX38, an overhaul of the theme selection interface. THX38 reduces the amount of information directly available on the theme selection page, which makes it much easier to look at – instead, the theme details are now placed in a responsive popup. Theme browsing is also much faster, fully responsive, and there is basic support for multiple gallery screenshots and bigger display.
More Time Saving Developer Tools
Some of the system-based updates include an updated JSON API, a new "Omnisearch" site-wide search, and the ability to insert widgets into content as "blocks". A new idea of introducing these features as plugins now allows developers to test and share their ideas quickly and easily, and allows teams to test efficiently and decide whether a new feature should be included in the next major update.
This update is easily the most visually-striking change we've seen in a long while and is promising with its new features! We hope you enjoy the new interface as much as we do.