Spice Up Your Facebook Page with ReverbNation
Facebook and Pages are revolutionizing the way bands and performing artists market themselves and interact with their fans. And then there are tools like ReverbNation to encourage fan engagement and help manage fan relationships in this era of social networking.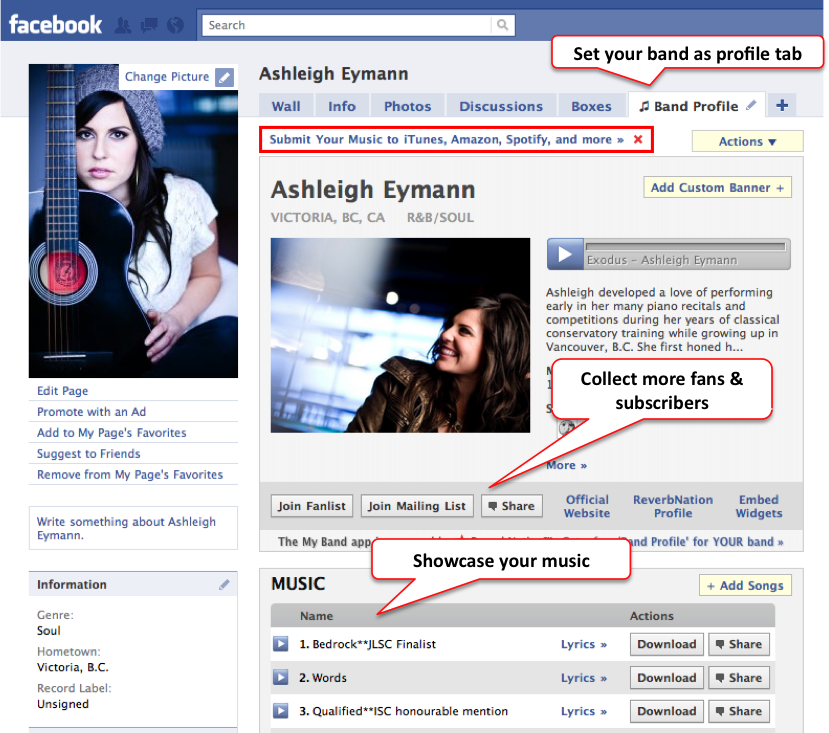 I'm working with Ashleigh Eymann, an extremely talented, local, young artist, to build her social media profile and reach a broader audience. Just a few years ago this level and speed of marketing would have been impossible. Now it's possible to not only reach but connect with and engage thousands of fans via social networks.
Engage Your Fans
ReverbNation's "Band Profile" app brings your Facebook page to life. It allows you to publish your band's photos, stream music, capture subscribers and promote upcoming shows. I recommend setting your wall preference to show the "Band Profile" tab by default, ensuring fans get an instant snapshot of your band without having to scrolling or go poking around.
With MyBand you can
Add a Bio and Band Photo
Post unlimited songs for streaming or download
Sell your music
Friends can add your music to playlists and share music with their friends (viral)
Include links to your homepage
Add your show or gig schedule
Sell tickets to shows
Grow your mailing list and street team
Track how your music is spreading (who's listening? who's sharing? which songs?) to measure your popularity.
How do you interact with your favourite musicians? Drop me a note.