The Mid-Island gets its first tourism-focused job board!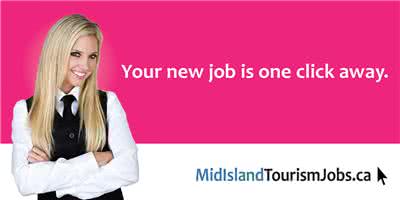 MidIslandTourismJobs.ca has launched, following the astounding success of its sister site. VictoriaTourismJobs.ca launched in January, and with more than 1200 Job Seekers and almost 100 Employers it has become the meeting ground for Victoria's tourism industry. Now the Mid-Island's communities will have access to their own local, tourism focused job board. The newly launched MidIslandTourismJobs.ca job portal will serve all of the Mid-Island's communities, from Campbell River to Cowichan Valley, from Hornby Island to Tofino, and anwhere in-between. Whether you're searching for the perfect employee, or the perfect career, MidIslandTourismJobs.ca is your new destination!
42 Mid-Island Tourism Jobs Available
The Mid-Island has much of BC's best scenery and many of its most alluring attractions, like the Cowichan Valley's wineries or the world-class surfing in Tofino. In each of the Mid-Island's communities you will find a unique tourism industry, dedicated to sharing their local experiences with the Mid-Island's visitors. MidIslandTourismJobs.ca currently hosts a wide array of jobs for many of these tourism employers, including Tigh-Na-Mara, the Wickaninnish Inn, Old House Village Hotel & Spa, the Beach Club Resort, Chances RimRock, Fairwinds Golf Course, the Coast Bastion Inn, and many more. Click here to view our available jobs!