When To Tweet Just as Important as What to Tweet
If you're reading this then chances are you're probably an avid Tweeter as well. Whether you post updates once or fifty times a day, you can improve your results by knowing when to tweet. Twitter moves pretty fast and your follower's Twitter streams may only display your tweet for a few minutes. So unless you're important enough to them to be on a list or RSS feed your tweets may not be getting seen, clicked on or retweeted.
There are a few ways to determine when is the most effective day of the week and time of day to tweet. A good way to start, and a real eye-opener, is to understand when tweet, reply and retweet.
Do You Know When You Tweet?
You may think so but I'll bet you'll be surprised. I was. There's an app called Xepher that graphs all of your tweets, replies and retweets by the day of week and hour of day. Here are my almost 9,000 tweets graphed. I was shocked to find out that I tweet most on Monday's and 4:00 was my favourite time to tweet. This is important information.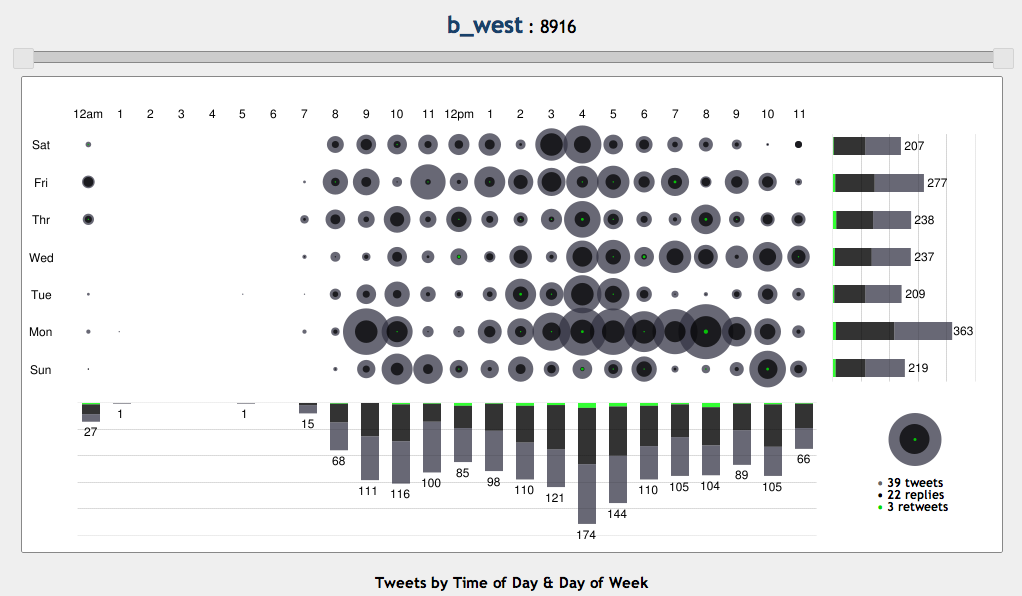 Another way to use this information is to find out when your target audience is online and most likely to be tweeting & retweeting. A bit arduous to do for many users but if you have a few specific people you want to hit it only takes a minute.
Where to From Here
With that information in hand we decided to do a test. We sent a few tweets out at specific times of the day and tracked when the message got retweeted and the link clicked on. Using a promotional campaign we were running for Social Media Gift Certificates as the pilot, it started getting retweeted right away. The campaign continued to get retweeted over a five-day period, which we tracked using Hootsuite's stats and Google Analytics.
We tracked the results over a five-day period and as you can see from the chart below the most popular time for click-thru's back to the site were 11:00am and then again between 4:00 -5:00pm, which makes sense given who my audience is.
With this information we can tweak our next campaign to make sure there are more targeted tweets around these times. We can also take it a step further by testing copy lines in the tweets now that we know we have isolated the time variable.
Final Thoughts
So remember that if you want to ensure your tweets are not only getting seen but also getting acted on, do some research to determine when your audience  is engaged, have the right tools in place to track your efforts, and measure and analyze your results to understand what's working, what's not and how to improve.