You Got Your Tweet in my Linkedin!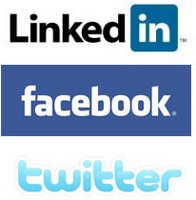 Well you got your Facebook in my Twitter!
After an eye-opening discussion about Linkedin at the Victoria Social Media Club last night, I decided to take a closer look at how Linkedin usage and behaviour has evolved over the last year.
It appears that many users are "taking advantage" of the Twitter – Linkedin integration to blast messages out across multiple SM platforms. I guess I was aware of this but didn't pay much attention. So when I dove into it a bit I was surprised to find just how rampant it has become. If you are Tweeting on Linkedin you may see your connections begin to fly away. The etiquette of these two platforms in terms of frequency and content is not always appropriate for both audiences.
There are certainly some good things about the partnership between Twitter & Linkedin, as well as social media tools like Hootsuite, Tweetdeck and Seesmic that allow you to send a message simultaneously to multiple platforms, but just because you can doesn't mean you should.
With the Linkedin – Twitter integration you can now do lots of fun stuff including:
add your Twitter handle to your profile
synch your tweets and status updates
display your tweets on your profile
So Who's the Audience
The purpose of the Linkedin status update is to communicate with a specific audience or set of connections and that audience is not necessarily the same on both platforms.
Take my network for example. I have about 500 connections on Linkedin, the majority of which are colleagues and business contacts split fairly evenly across Toronto, Tokyo and Victoria where I've lived and worked the last 10 years. I've been a Linkedin user since March 2005.
On Twitter, I follow about 900 people and have 1,400 followers. I estimate only about 25% are also Linkedin connections. The rest I met online and the majority are located here in Victoria. I've been on Twitter since April 2008
These groups are very different. How about yours?
Twlingo
In addition to those differences Twitter also has its own unique language. The retweet (RT), the  @ reply and the # hashtag (not to mention the grammar and shortened words that comes from trying to fit your message into 140 characters) are examples of practices that do not apply to Linkedin and will make no sense to those not familiar with Twitter. Of course I would be the first to say, what do you mean 'not familiar with Twitter' doesn't everyone know about Twitter? Well in fact there are plenty of people that haven't taken up tweeting yet and many of them may be on Linkedin.
The Frequency Issue
Another issue to consider, and probably the more important one, is the frequency of updates. I update my Linkedin Status maybe twice a week while I send anywhere from five to fifty tweets per day. Did you know that Linkedin has a "hide" button? Just like has the Facebook hide button and Twitter's "unfollow". You may get getting dropped by your connections and not even know it.

Rather of syncing your tweets and status updates, you can strategically, hand-pick specific updates that make sense to post on both platforms and apply to both audiences.
I also recommend leveraging social media management tools like Hootsuite and SproutSocial that enable you to quickly and easily send unique messages to each platform (Twitter, Linkedin, Facebook and more).
Or maybe I'm just too anal about the whole situation. What's your take?