Where in the World Are My Web Visitors Coming From
I am going to start this one off with a question. All it requires is a simple yes or no answer. You can answer in your head, or out loud. I guess if you want you could also answer in the comments section. The point is I want you to read this post and then keep your answer in mind.
Does your website have Google Analytics?
Now that you have an answer you can either take the info presented in this post and:
a. learn how to use your Google Analytics data to improve your website
b. use it to convince yourself that it is time to install Google Analytics on your site
There are so many amazing features within Google Analytics and most people haven't even scratched the surface of what it can do. This post is going to cover using the Map Overlay section.
First off let's take a quick tour of the Map Overlay section. If you have GA installed on your site please feel free to follow along. If you don't have it installed on your site, try to follow along and use your imagination, or contact Sage and we can "hook you up."  To find the Map Overlay:
login to your Google Analytics Dashboard
scroll down the page until you see a world map on the right hand side of the page
click the view report link
Now you will see a larger version of the world map with various shades of green throughout the countries. You can hover over the countries and see a number appear. This number is the number visits your site has received from that particular country within the chosen time frame (top right corner of the page, usually the previous month).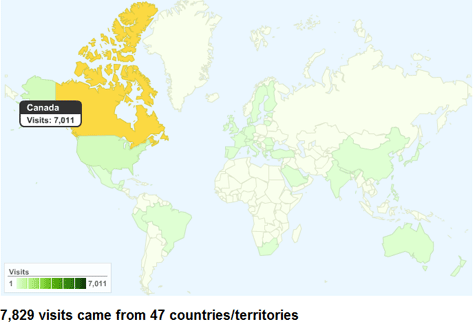 Below the map you will see a list of countries and a few stats such as Visits, Time on site, and Bounce Rate (percentage of people that navigate away from your site after viewing the page they have landed on – the lower the better). From here you can get some insight as to where your visitors are coming from. If you have a website for a Brick and Mortar store, or perhaps you offer a service locally, you would like to see your county as the #1 spot. If it's not you may want to review your website to see why you are not attracting attention within the proper country. If your site is more global then you can see which countries are most interested in your site and you could further target those locations.
Next you can click on the specific country to get the data even further broken down. When you click on a country the next page will show you all the major cities where you visitors are coming from (or in the case of the US it is broken down by state and then city). This is a fantastic feature to review how any Geo-targeting promotions are working. For example if you were running a Landscaping company you could compare what part of the city your visitors are coming and run some kind of special that focuses on capturing the visitors from that city and converting them into leads.
Take a look through the Map Overlay and get to know where your visitors are coming from. There is a wealth of information contained within. If you do not have Google Analytics installed on your site you should really consider having it added.. If you need someone to set this up for you feel free to contact Sage and we can work on getting you up and running with Google Analytics.