!! T4A & T4E filing deadline is March 1, 2021 !!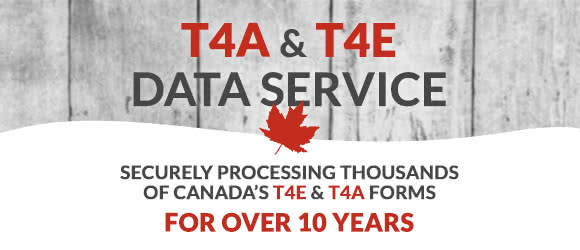 Low-Cost T4E & T4A XML file Preparation, Conversion & Submission Service
The process to produce your Canada Revenue Agency T4A/T4E forms is fast and simple with Caorda. Our service provides you with the two necessary components of your T4E/T4A income tax filing obligations:
T4E/T4A XML data file
T4E/T4A form creation
Get anywhere from a few dozen to 1,000s of records converted and prepared for less than it would cost you to do it yourself. Using a supplied spreadsheet, your part is simply to populate your tax data and provide it to Caorda via a secure login. Caorda will take care of the rest and put you in a position where you can file your T4E/T4A XML file with the CRA and print your slips for recipients.
Secure & Private XML Tax Data Conversion
Our developers have built Caorda's XML tax data conversion service to ensure your data is secure and private. All information transferred is managed through a secure connection and environment (SSL encryption). In no circumstance is the information uploaded retained or used for any purpose other than to produce the resulting tax forms and XML file. See our privacy policy for more information.
T4A/T4E XML Service Includes:
A secure site, username, and password to upload your Excel data extract and retrieve your completed files.
Creating the necessary XML data file as required for CRA submission.
Validating the resulting XML file(s) against the supplied CRA schema.
Creating a PDF file that contains all T4E/T4A slips pre-populated with the corresponding data.
Affordable T4A/T4E XML CRA Conversion
This service will save you significant time and effort. Cost is on a per record charge based on your volume. Caorda's process only requires you to provide the raw accounting data, which removes the challenges of dealing with the technical portion of the filing. The PDF file containing all form data will eliminate both the cost of producing blank forms and the frustration of aligning forms for printing.
| | |
| --- | --- |
| # of Records | Cost Per Record |
| 1-100 | $2.00 (min charge of $150) +Tax |
| 101 – 600 | $1.50 (to a max of $600) +Tax |
| 601+ | Contact us for a custom price |
For more detailed information on the process to have your T4A/T4E files created, please click here. Contact us today to get started with your T4E/T4A XML data conversion service.
Complete the form below to recieve a quote for submission