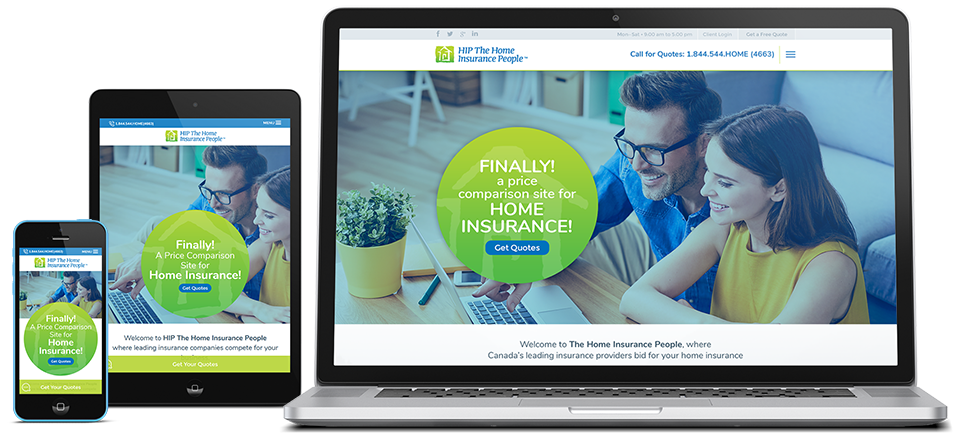 HIP – The Home Insurance PeopleTM
The specialists at the Home Insurance People (HIP), are fully licensed and highly qualified insurance brokers. As experts in house insurance, condo insurance, and tenant insurance, they work proactively with their clients to ensure they receive the best possible service and comprehensive policy coverage at competitive prices.
Instead of just giving you one price like everyone else, they show you competing prices from Canada's leading insurers. This allows you to compare each of the new quotes against what you're paying for your current insurance policy. Then, at renewal time, instead of automatically rolling you into the same-old policy, they acquire brand new quotes from the list of insurers for you to compare once again. Pick the best one, or stick with your current plan.
The Challenge
Caorda has proudly worked with HIP for several years, and we have assisted with a series of design updates since launching their original website back in 2015. The old site had been performing well, and the staff at HIP enjoyed the efficient simplicity of working with the WordPress content management system. However, after a few years, this aging site had grown in need of a facelift. They knew they didn't need to change the core structure of the site, but the theme was in need of a fresh new approach.
HIP also wanted to portray a more friendly, human feel, and to strengthen their brand across all pages. This new, modern design needed to demonstrate their success and build trust, in order to better entice new customers; this was hugely important to them.
There was also a need to dramatically improve the overall experience of visitors arriving from smartphones and tablets. With the majority of web users now surfing the net on smartphones, it was crucial to develop this new experience from a 'mobile first' design philosophy. Lastly, they wanted to update the content on several pages to help convey this new clear, friendly tone. A new beginning for an established brand.
The Solution
The updated website got a major facelift, as did its page content. We knew an open and modern layout with clear, vibrant calls-to-action would greatly benefit their vision. It was easy to help convey a sense of approachability and trust by integrating images of casual, happy, everyday people, as well as prominently displaying their Google Business reviews on some pages. In fact, we streamlined their process of keeping the site up-to-date with testimonials by creating functionality that now automatically pulls their Google Reviews directly from Google.
Our SEO specialists got involved to help infuse the page content with the most accessible, relevant dialogue to suit their audience. Additionally, now that we have a few years of data to learn about their visitors and demographics, our digital marketing team was able to start boosting their Google Ads and Facebook campaigns with more focus and precision, which had an immediate effect, sending highly relevant and 'close to converting' traffic to the website.
Visit the website