If you are using Caorda's Secure IMAP connection as your incoming mail server, please follow the instructions below.
Step 1
Start setting up the new email account by filling out the general user information fields like your name, email address and password. When you are prompted to enter the server information use the following:
Account Type: Choose IMAP from the dropdown options
Incoming mail server (IMAP) field enter: securemail.caorda.com
Outgoing mail server (SMTP) field enter: relay.caorda.com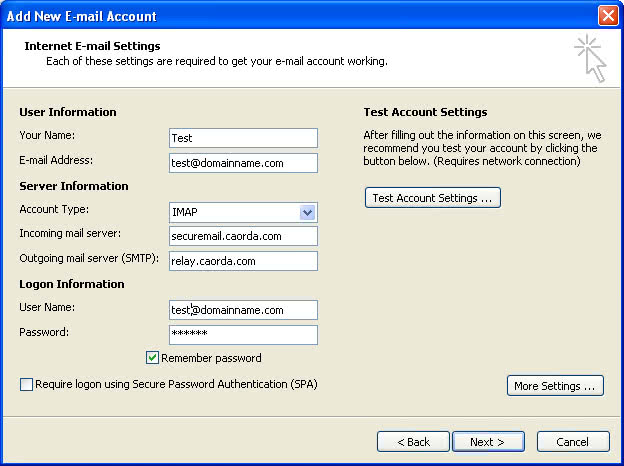 Step 2
Click the More Settings button and in the Internet E-mail Settings dialog box, choose the Outgoing Server tab:
Check the box for: My outgoing server (SMTP) requires authentication
Select the option: Use same settings as my incoming mail server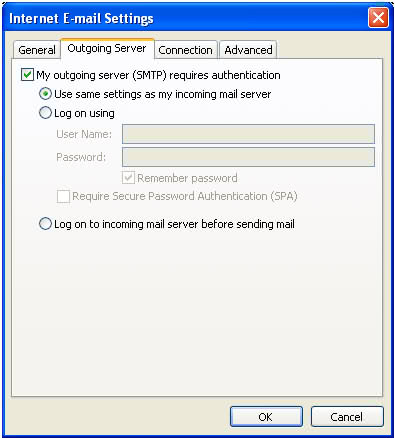 Step 3
Now, choose the Advanced tab in the Internet E-mail Settings dialog box and enter Server Port Numbers as follows:
For Incoming server (IMAP) enter: 993
Check the box for: This server requires an encrypted connection (SSL)
For Outgoing server (SMTP) enter: 587
Click the OK button.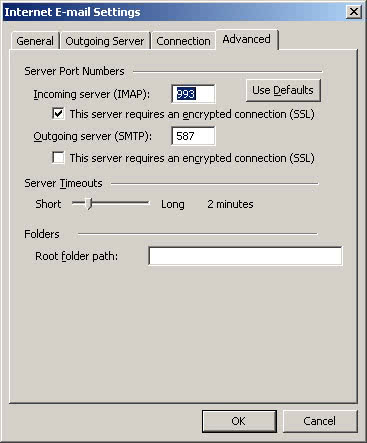 Step 4
After filling out the information, we recommend you test your account by clicking the Test Account Settings button in the E-mail Settings dialog box.