Blocked & Quarantined E-mail
Incoming e-mail is automatically scanned and if detected as known spam or if it contains a virus, the e-mail will be blocked for your protection. E-mail that is only suspected as spam will be put into a Spam Quarantine and you will be sent a Spam Quarantine Summary e-mail similar to the sample below.
Emails from whitelisted senders will immediately pass through the firewall and will land in your mailbox. Ie. Whitelisting a sender means removing all filtering of that message.
Important Note: DO NOT Whitelist your own email address! This would cause significant spam email increase in your mailbox. If you whitelist yourself there is no filtering involved on emails coming from you, which means spammers can use your email address to send out emails impersonating you.
How to Whitelist or Blacklist email accounts?
How to Deliver or Delete messages from the Quarantine?
First you have to find your way to your firewall settings. There are two ways you can do this:
1. When an email is quarantined by our spam filters, you receive an email from the Caorda Spam Firewall with the subject "Spam Quarantine Summary".
This gives you the quickest way to Deliver the message / Whitelist the sender or Delete the message simply by clicking on the links in the email.
This email also contains a link that takes you right to your spam user settings. Since only you receive this email, you are automatically logged into your Barracuda Spam area if you click on the link on the bottom of the quarantine email. Once logged in you can set your user preferences and classify messages.
You should scan this Spam Quarantine Summary e-mail to see if any intended e-mails were caught in the filter. If you find e-mails you want, you can click on Deliver next to the desired e-mail and the e-mail will be delivered to you. By clicking on Whitelist you will add the respective e-mail address to an approved list to ensure safe acceptance in the future.
2. Alternatively, you can login directly to the Caorda Spam Firewall. Here, you come from the outside world so you will have to:
Enter your your email address(ie: user@caorda.com)
Click the "Create New Password' button the first time. The new password will be sent to you via email. Once you received the password you can login to your spam quarantine area with your username (email address), password and set your user preferences and classify messages. Make sure you save your changes.
Classify messages through Microsoft Outlook Plugin
The Barracuda Microsoft Outlook Plugins require Windows 98/2000/NT/XP. The plugins allow you to classify messages as spam or not-spam right from your desktop through 2 buttons that are added to your Outlook program . To download and install the plugin login to Caorda Spam Firewall and click on the link below the login information as shown here: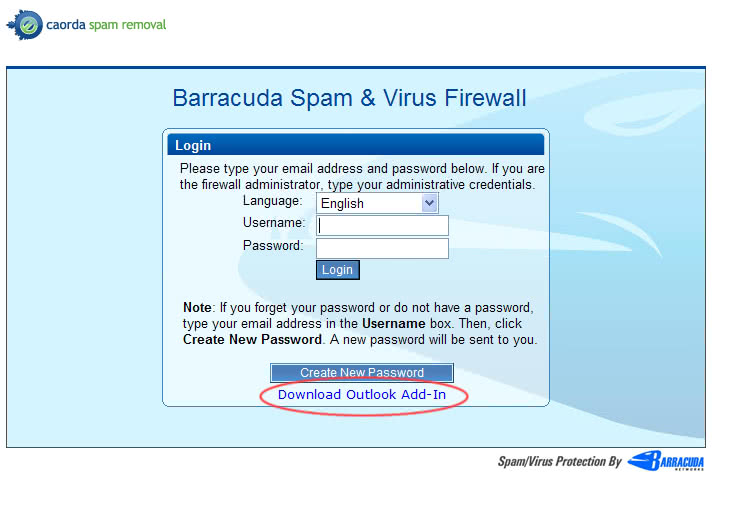 Still in doubt? Contact us.