Email marketing drives more conversions than any other marketing channel including search and social, based on research from marketing automation agency, Monetate.
Email marketing is one of several marketing strategies that Caorda recommends to attract qualified visitors, eager to learn more about your company.
Ask us about setting up your newsletter
Engage Your Community with Email Marketing Campaigns
Would you like to engage with your clients via email with interesting news, announcements, exclusive specials or updates? Would you like to learn more about how to incorporate an email campaign into your own marketing efforts?
Caorda has worked with many companies in different industries to design, setup and deploy their email marketing campaigns. We are experienced with various email marketing solutions including Mailchimp, Constant Contact, Vertical Response, AWeber and Caorda Mailstorm (see below). Each solution has a similar core feature allowing the average business to easily design and send sophisticated email campaigns to small or large batches in a consolidated setting. Clients also enjoy comprehensive reports on delivery stats, open rates, and who clicked on which links in your campaigns.
Mailstorm is Caorda's hosted email marketing solution allowing you to organize all your newsletter campaigns and subscribers with ease. Unlike other common newsletter software, such as MailChimp or Constant Contact, Mailstorm is for organizations wanting to keep their contacts out of the cloud and keep them hosted securely in Canada to provide a high level of privacy and control.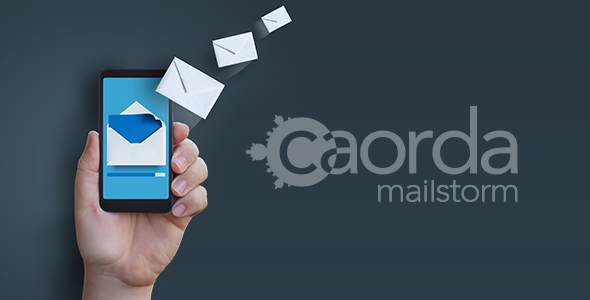 Mailchimp email marketing is completely free to start, so long as your email list is less than 2,000 subscribers and you send less than 12,000 emails per month. That's well within the average SMB client's threshold. Mailchimp has recently gone through a very significant upgrade in its marketing automation solution, however, they still struggle with some of the basic multi-branch strategies that AWeber chose to focus on earlier in their development timeline.
The Benefits of Breaking with Tradition
With today's constantly moving and increasingly portable technology, email marketing is an accessible and affordable way to make a connection with your contacts, no matter their location. Unlike traditional forms of advertising, emails can be sent directly to your audience and can be easily tailored to meet a specific group's needs. A regular stream of relevant, informative email correspondence between you and your contacts builds trust and strengthens your reputation. Email marketing is also highly flexible and can accomplish many tasks – newsletters, announcements, offers, invitations, surveys, signup forms, and much more.
Opening rates are highest when business send only 2 emails per month based on market research from the Database Marketing Institute
Are You Still Worried About CASL?
Don't be. The Canadian Anti-Spam Legislation that spread panic across the marketing kingdom was not ratified at the deadline in 2019 and so it is not being enforced. What it did do, was to start a healthy conversation and set some community guidelines on what makes an authentic email campaign work. Subverting some of these basic tenets will only lead to a non-engaged and furious email list, which many solutions monitor and can ban your account. Develop high-value content that is highly personalized using smart automation and you should be just fine.