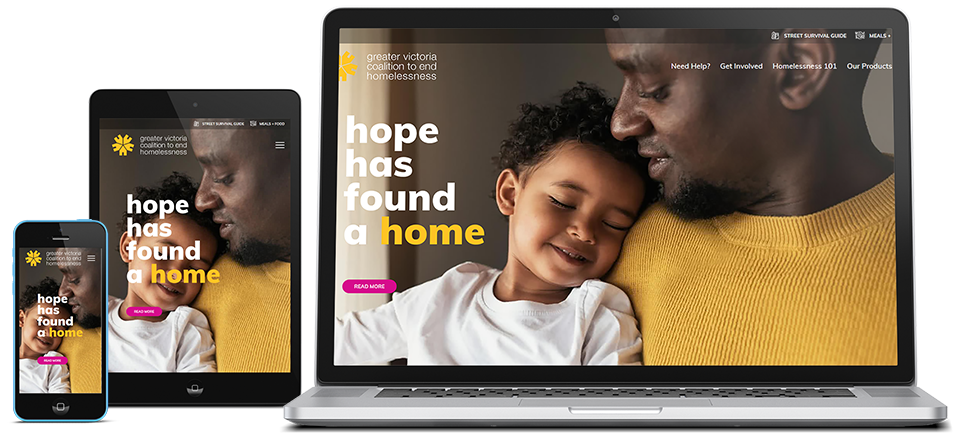 Greater Victoria Coalition to End Homelessness
When we were approached by the Greater Victoria Coalition To End Homelessness to upgrade the organization's web site, we agreed that the site could use a design update, as well as some important SEO improvements, but because the site was well established with many pages, we knew some careful planning was needed before the upgrade began. Read on to learn more about the challenges we faced and some of the innovative solutions we implemented for this specific project.
The Challenges & Solutions
This project had a number of challenges for our team. The Coalition's old site had a rather dated and uninspiring design and lacked some key features for important aspects of the organization: the events calendar and "Street Survival Guide" – both essential resources for homeless or at-risk individuals – required significant upgrades, feature improvements and responsive styling for use on mobile phones. Prior to the new website, the Coalition relied on members emailing in event dates and information, which was manually entered into the existing calendar. With the new website, members create their own calendar events, which are then reviewed and approved by the coalition. In addition to the events calendar, the Coalition's Street Survival Guide is a resource which is distributed both online and as a physical booklet. Before the new website, the Street Survival Guide was simply uploaded as a PDF. However, as many individuals experiencing homelessness rely heavily on mobile devices and cell phones, Caorda implemented the Street Survival Guide as a lengthy page on the website, responsive to multiple screen sizes, which leads to a user experience that is natural and intuitive for those without a desktop computer.
An Upgraded Design That Fits The Brand
Upgrading the design was a definite must – and a unique challenge! We at Caorda, however, have a team of expert web designers that are always up for taking on new website design challenges. The Coalition was looking for a specific feel, one that conveyed a sense of hope and positivity for those facing hard times. It was important to avoid representing Victoria's homeless population in the wrong light, but equally important to highlight the realities of those who are homeless or at risk of homelessness. After working with the client, our team had a solid understanding idea of what was needed. We decided on a design that brightened up the organization's colour palette, using complementary colours to the gold used in the logo. Check out the site to get a first-hand look!
Transitioning An Old Website To A New One
After the new design was finalized, we went to work on the content to ensure it was easy to read and to find information. In reality, it's not as simple as just switching to the new design; because the client already had an old site with many pages, it meant that there were links already around the web pointing to the old website. We had to ensure that we either kept the link URLs the same, or had a proper transition plan for redirecting these old links to the new. The Coalition had been writing blog and news posts for years, so it was important to carry over hundreds of posts to the new website. These posts highlighted many areas of service provided by the Coalition, so transitioning and displaying them in a user friendly manner was essential. That's when our digital marketing team went to work on planning & implementing the whole transition. Once that was done, it was time to ensure proper SEO meta information were applied throughout the site, and finally, the Google Analytics tracking code was transferred over.
A Path Forward for Greater Victoria Coalition To End Homelessness
Despite the obvious (and not so obvious) challenges we faced with this specific project, our team was able to find effective solutions to deliver to the client. We were very pleased with our upgraded design (as was the client – see the testimonial below), and we were able to successfully transition the old site and links to the new website seamlessly. We look forward to working more with Greater Victoria Coalition To End Homelessness!
Visit the website
It was an absolute pleasure working with the Caorda team on the complete re-invigoration of our website at victoriahomelessness.ca. What was – to be frank – an embarrassment of a site that neither served our site visitors nor reflected our work is now a vibrant and engaging resource for people experiencing or at risk of homelessness and those who serve them. We could not be more thrilled.
Shannon Whissell
Greater Victoria Coalition to End Homelessness