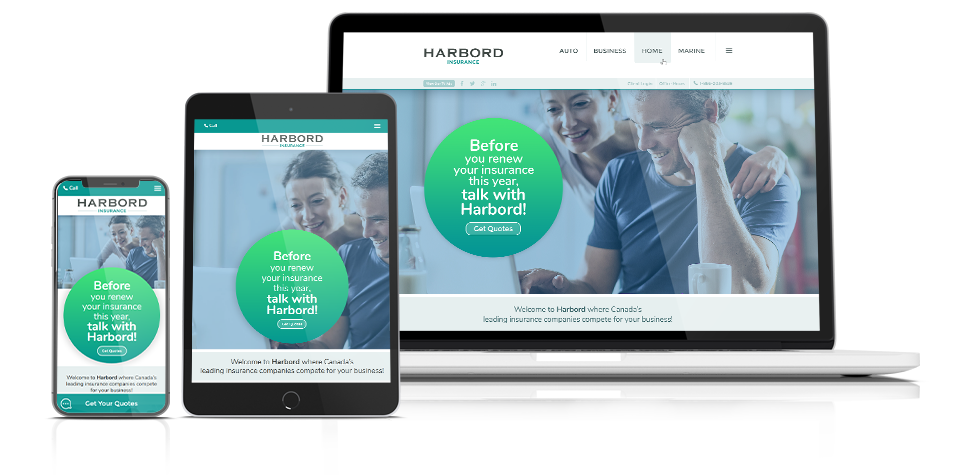 Harbord Insurance
Harbord Insurance is a very well respected Victoria-based insurance company that has been in operating the community since its inception in 1947. Caorda has had the pleasure of working with Harbord Insurance very closely over the last few years. We've developed websites, applications, comprehensive social and Google Ads campaigns as well as a consistent Search Engine Optimization campaign. 
The Challenge
It was time. Time for a fresh new branding exercise. We had just completed a website launch for another Harbord company and the entire design and user experience came together so well, the owner saw the 'age' in their current site and wanted to see this new look and feel built into a new vision for their flagship website. They also instructed us to draft up some new ideas on an updated logo and branding for consideration. We definitely had been looking forward to working with their logo as the design team was definitely seeing its age.
They had several locations to consider and needed a much less chaotic way to help guide visitors to the right location and department.
Our Solution 
The first phase of the rebuild was to create a new Harbord Insurance logo. It was super important to Harbord that we carry over some traits of the old logo, with a sophisticated and bold serif typeface for the name 'Harbord', but they were interested in exploring some modern, streamline fonts for the word 'insurance'. Compared with some of our more standard branding projects, it was decided from the beginning that this would be a suite of logos, encompassing the main brand as well as 'department' based logos for home, auto, business, boat, and travel. We rotated through many variations and in the end simplicity won out and the results can be seen on the website.
Once the new brand was established, complete with new fonts, colours, and iconography, we set to work wireframing some layout ideas for the new website. Much of the same home page content was retained – similar navigation styling, boxes showcasing the primary insurance types, testimonials, a blurb about the company's features, and a blog feed. Once the wireframe was settled, we developed the overall design, with an emphasis on enriching the visual appeal and experience. Then, with the home page design settled, the rest of the pages fell into place and website development started.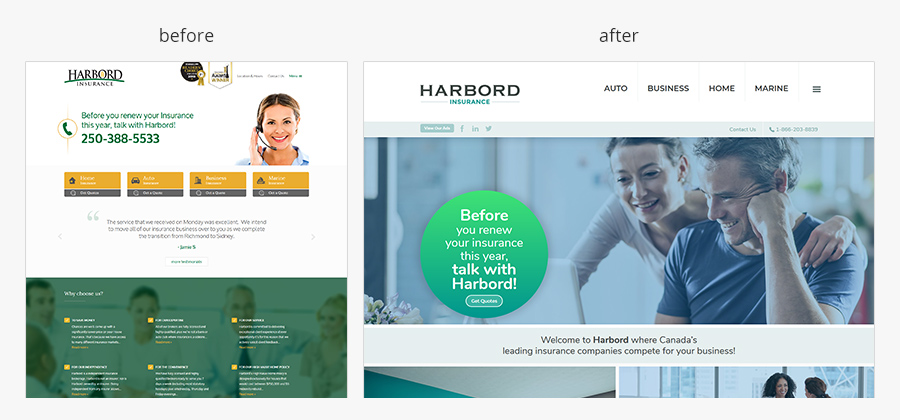 The goal is to drive new leads into quote forms, so there was a great deal of planning put towards prominent and easy to use Calls to Action at all stages of the visitor's journey and on several places in the content.
With a heavy Google Ads traffic source, we put a serious effort into the mobile website layouts to ensure that this new site wasn't just 'responsive', it contained a dedicated mobile experience.
Visit the website
Harbord Insurance Services Ltd. started working with Caorda to help us develop and launch our new website. We really liked that Caorda had everything we needed in house - graphic designer, web developers team, SEO specialists, software specialists, etc, which really streamlined the process. After taking the time to get to know our business first, and what we were looking to achieve, Caorda then implemented a systematic planning process which helped us keep everything on track. Now we have a beautiful new responsive website that is easy to update ourselves and we really look forward to working with Caorda to continue the momentum with our digital presence!
The Caorda team is professional, knowledgeable, helpful, creative, and patient. I would happily recommend Caorda Web Solutions to any business looking for a new website!
Tamra McQuitty
Harbord Insurance Services