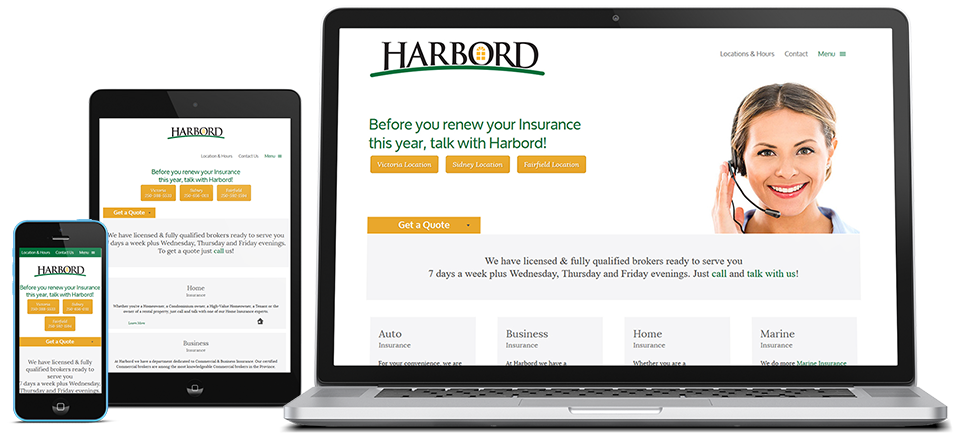 Harbord Insurance
This project was a picture perfect combination of collaboration, strategy, and design. An exceptional effort was taken to develop a new branded website which was clean, concise and most importantly device-responsive. As more and more visitors arrive using smartphones, it's business critical to ensure that the mobile experience is just as clean and intuitive as the larger, desktop version.
Harbord Insurance Online Payments
Harbord Insurance and The Home Insurance People wanted to provide a convenient online interface for customers to pay their insurance premiums and Caorda made it happen! Caorda created a custom WordPress page that uses the Bambora (formerly Beanstream) payments provider so customers have an easy way to immediately pay within the Harbord insurance website.
Visit the website
Harbord Insurance Services Ltd. started working with Caorda to help us develop and launch our new website. We really liked that Caorda had everything we needed in house - graphic designer, web developers team, SEO specialists, software specialists, etc, which really streamlined the process. After taking the time to get to know our business first, and what we were looking to achieve, Caorda then implemented a systematic planning process which helped us keep everything on track. Now we have a beautiful new responsive website that is easy to update ourselves and we really look forward to working with Caorda to continue the momentum with our digital presence!
The Caorda team is professional, knowledgeable, helpful, creative, and patient. I would happily recommend Caorda Web Solutions to any business looking for a new website!
Tamra McQuitty
Harbord Insurance Services