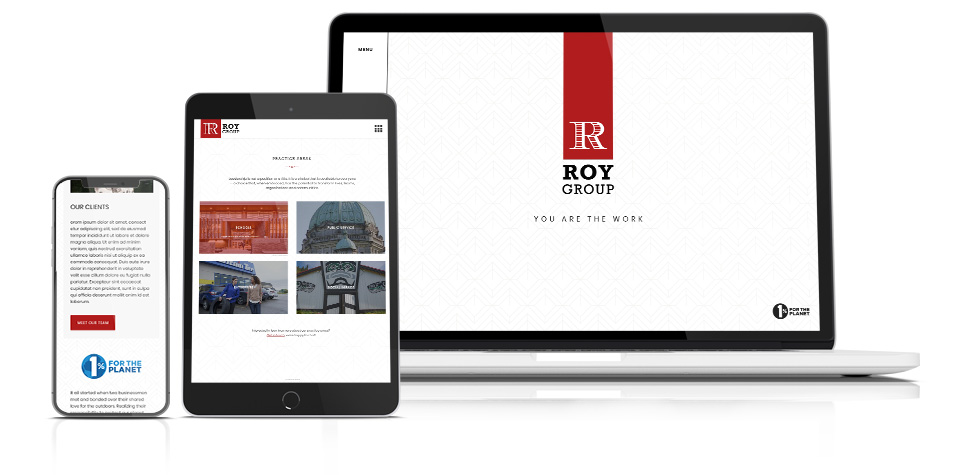 Roy Group
We recently completed a new website project for Roy Group, an organization that provides leadership training courses and events throughout Western Canada. The company works with individuals of all types to grow their leadership capacity, and Roy Group needed a quality website that properly portrays the type of quality leadership training and events that it provides. That is where Caorda came in! Read on to learn more about this website project, including the various challenges our team faced and the solutions we implemented. Check out their awesome new website at RoyGroup.net!
The Challenges
Roy Group approached Caorda looking to make a statement with its digital presence. Although they are well known and respected throughout the community, the old website was fairly basic and lacked many of the features that modern design and development techniques can bring. With the concept of creating a stunning "digital business card," Caorda's team went to work to bring the idea to life.
The Solutions
To start the project, Caorda's project management team worked closely with Roy Group Partner and co-founder, Ian Chisholm, to define the aesthetic of the website. It was clear that the design needed to make a statement, standing apart from other common web design templates. Following an art deco visual style, the Caorda design team created a unique custom look, using hand-drawn icons and subtle textures to create a minimalist look that complements the bold Roy Group brand. The final product displays some of the core Roy Group values: quality and character.
After Ian was featured in Douglas Magazine at the end of last year, he was keen on creating a unique team page that conveyed the talents and personality of each team member. To do this, Caorda designed magazine covers for each Roy Group team member, accompanied by full, interview-style bios written by Roy Group team member Alex Van Tol.
Caorda continues to work with Roy Group to enhance the website, tying in additional features such as an events calendar with ticket sales, a newsletter function, and changes to their accreditation website, badges.roygroup.net.
Visit the website
We enjoyed an exceptionally positive experience working with Caorda throughout the redesign of the Roy Group website. We worked with a single project manager throughout the duration of the project, which was great for maintaining communication and consistency. Our project manager, Sam, was responsive to every communication, attended to every detail we brought forward, and made requested changes quickly. Not a single ball was dropped. Sam kept our timelines on track with workback schedules for different parts of the project, and was mindful of our budget. He did not hesitate to share ways for us to be efficient, and he let us know when he didn't need to be involved in a meeting or process. Caorda showed wonderful flexibility in being open to us bringing in some of our own design and writing partners to contribute to the project.

More than this, our project manager went out of his way to educate us on best practices in terms of images, content, navigation and back-end organization. Because of his openness and willingness to share his ideas, we developed a solid trust in his guidance as a web expert. Our communications with everyone on the Caorda team always felt warm and supportive, with Sam showing a commitment to deep listening in order to understand (and serve) our needs. We had a great experience, and are very pleased to recommend Caorda.
Roy Group
Partner,
Ian Chisholm