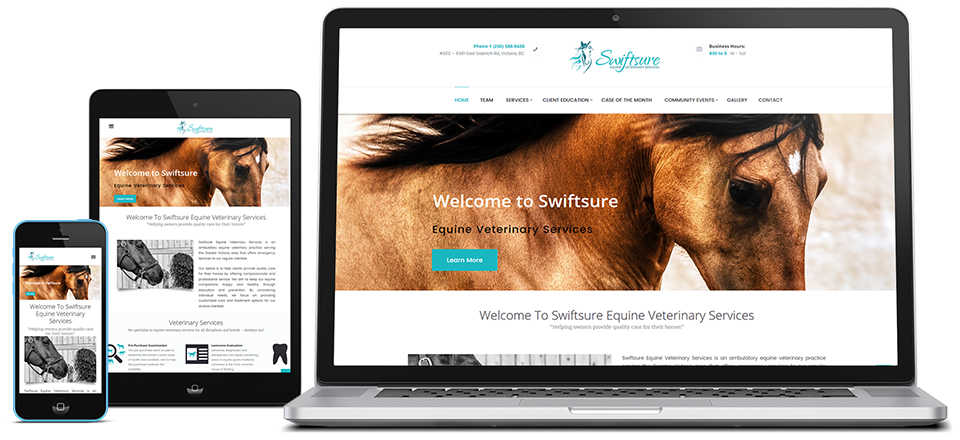 Swiftsure Equine Veterinarian Services
Swiftsure Equine Veterinary Services is based in the greater Victoria area. They provide ambulatory veterinary services for horses based on a philosophy of compassion and high quality, professional care.
The Challenge
Swiftsure Equine Veterinary Services had been working with another website development firm and felt frustrated with repeatedly missing deadlines and their lack of communication and general degree of professionalism. Danica, owner and lead equine veterinarian at Swiftsure, was referred to Caorda by an industry associate who had recently worked with us on a new website and shared with her, his extremely positive experience.
Our Solution
Our first task with Danica was to develop the branding and business logo. We met with Danica the same day she reached out to us and started on the work the next day. Her beautiful new logo was completed in just over 1 week.
The website was 90% complete and, after migrating the core software and design assets, it just needed some final edits and a design polish to 'pretty it up' for its final launch party. After completing some pre-launch SEO work, we finalized the website hosting at Caorda's Canadian web hosting facility.
Caorda now provides an ongoing website maintenance and security. Caorda is thrilled to have Swiftsure Equine Veterinary Services as a client, and Danica has expressed her gratitude and excitement about the final product and services.
Visit the website
I was referred to Caorda from a trusted peer impressed with their professionalism, efficiency, and capable services. I had incomplete projects and a tight deadline. Their office wall reads, "Every great change is preceded by chaos" and I knew I was in the right hands. They skillfully salvaged my website, created an attractive logo, and were willing to accommodate my deadline. I am amazed by Caorda's customer service, their team approach, and the passion for their crafts. Working with this talented team couldn't have been easier. I only wish I had contacted them sooner.
Danica Olenick
Owner & Equine Veterinarian,
Swiftsure Equine Veterinary Services