Case Study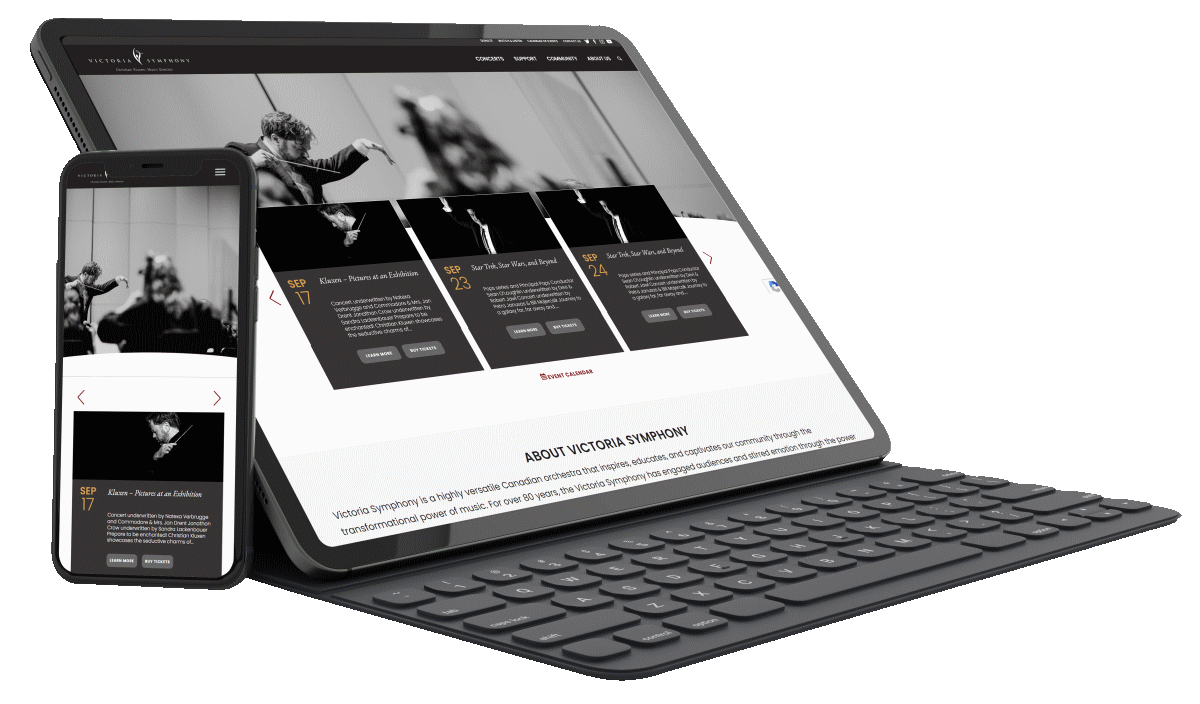 The Victoria Symphony Society (VSS) is one of British Columbia's largest performing arts organizations, offering a huge variety of concerts throughout the year in Victoria and in surrounding communities. For more than 80 years they have been captivating audiences through the transformational power of music.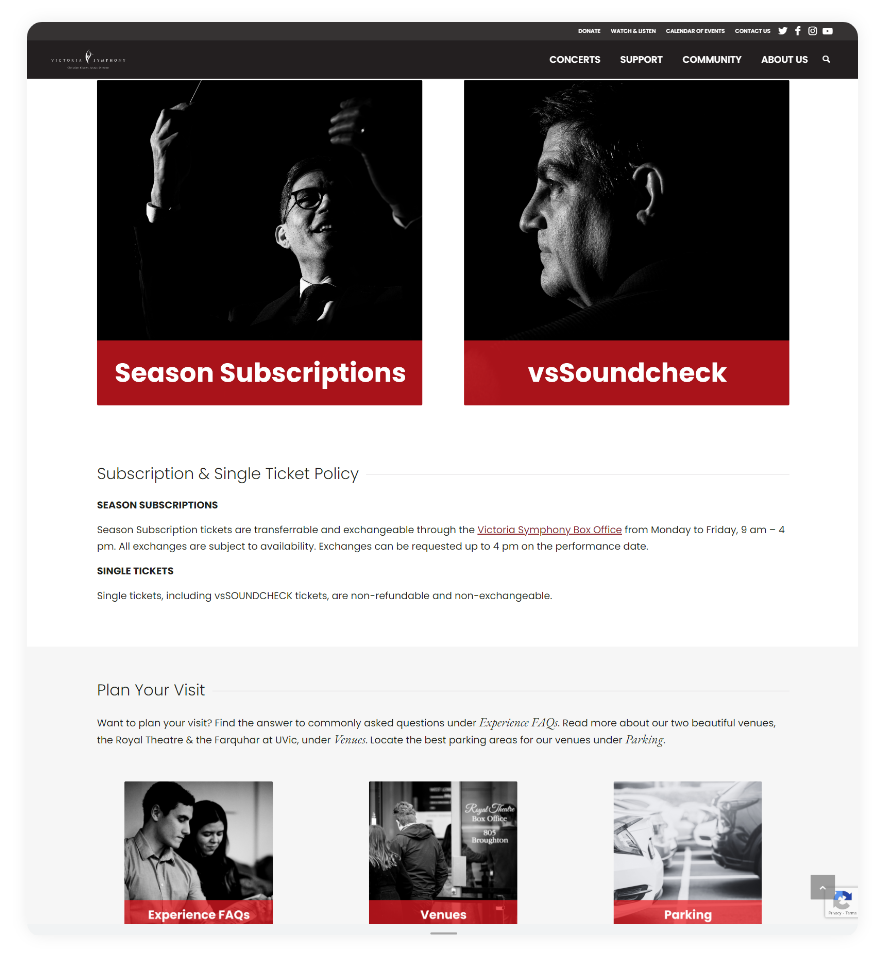 The Challenge
VSS approached Caorda as their site needed updating and a design refresh to make it more modern. With an audience that is mainly older adults, it was critical the user experience on the new site be straightforward, clear and accessible. They wanted the ability to prominently feature videos on the site, as during the pandemic this was the only way to continue to reach their audience. It was very important to VSS that the site be easy to use for their team to keep the site and its contents and events up to date without needing to rely on a developer. With the huge numbers of concerts performed each year, they needed a well laid out and functional events calendar and the existing site was not achieving this.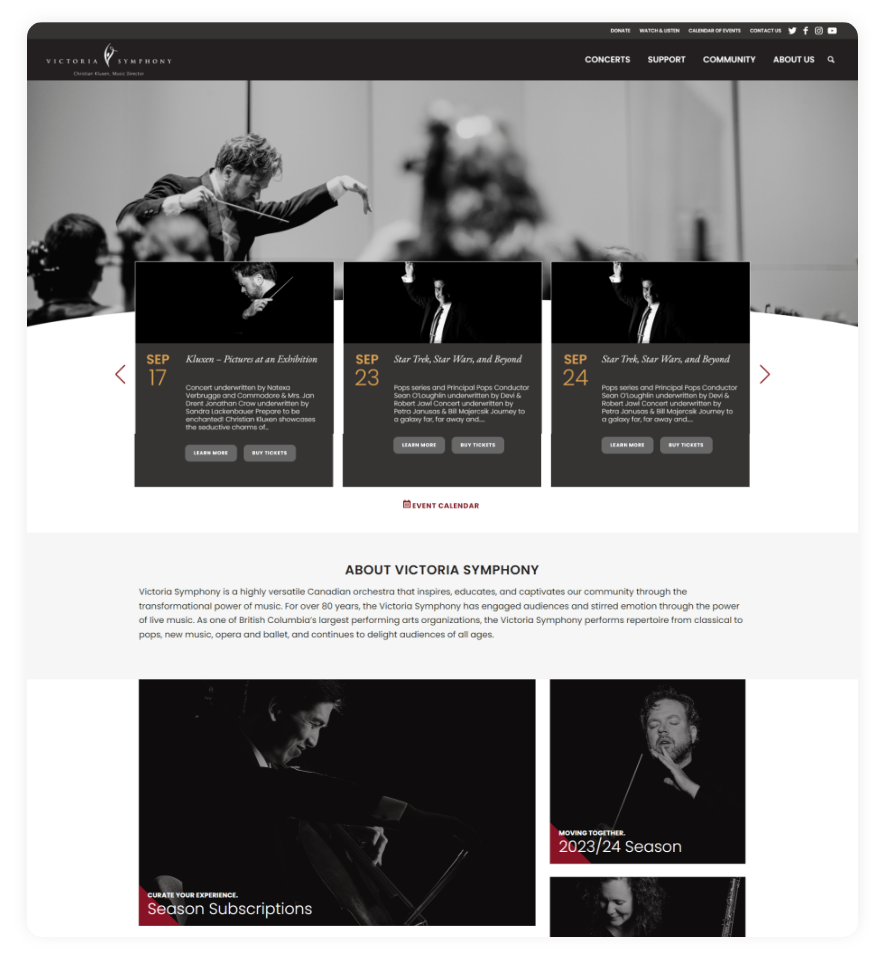 The Solution
Caorda's design team go to work on the site and started with a reorganized mega menu to make the content on the site logical and easy to find. A high contrast design and large, clear font makes everything easy to read and find on any sized screen. Videos are strategically used throughout the site and are easy for the VSS team to manage through their existing YouTube channel.
The event calendar was customized with tabs of information so the VSS could organize the different details about their concerts and make the information easy to digest for users. The new site was built on a WordPress builder that will be easy for the VSS team to manage going forward, including a variety of pre-built templates to ensure the layouts of the pages are easy to replicate.
The large volume of content on the existing site was migrated over into the new site and layout, offering the VSS team the opportunity to streamline the site and update information to make sure the copy fit with the lovely new look of the site.
The Result
The team at VSS is delighted by the clean, modern look of their new site and finds it very easy to keep up to date. The images used throughout the site are updated regularly and the team is easily able to keep the events calendar current with all the details about their upcoming concerts. Their patrons are also loving the new site and how easy it is to find everything they are looking for.
VSS was so pleased with the service Caorda offered that they have now moved the site over to Caorda for hosting and ongoing maintenance. While the team is able to handle most site updates themselves, there is a steady stream of enhancements and updates in the works to keep the site looking great and functioning at its best.