Would you like to be awarded up to $2,400 to help grow your business online? With the new micro-grant from the Canadian Digital Adoption Program, you can kickstart your online business by injecting some new energy (and new technology)!
Grow your business with Caorda, your digital service provider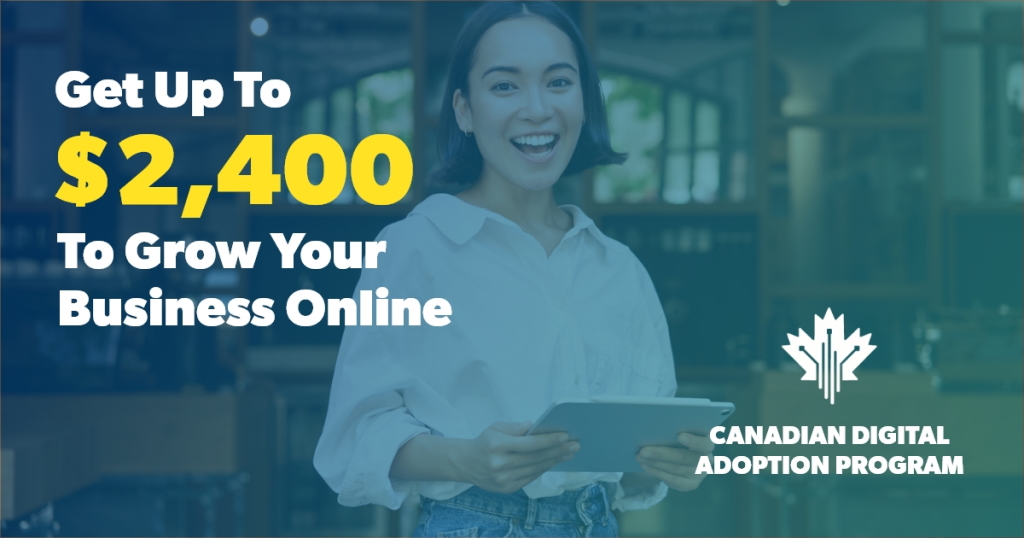 How Can Caorda Help You?
Caorda is a full web-service agency, delivering stunning graphic design, branding, digital marketing, and web development services across a broad range of clientele. If you are approved for the Canada Digital Adoption Program, not only will we help you manage the entire application process, our team of experts are ready to help you complete every step of your project, ensuring you successfully meet the deadline with a beautiful website that is ready to help your business thrive.
It's also important to know, Caorda won't charge for assisting you in applying for your grant.
"Apply for the Grow Your Business Online grant and get up to $2,400 to help you reach your customers where they are…"
What sort of services and products can this funding be used for?
Grant recipients can use the funding for a variety of online-related expenses, including pictures, creating an online inventory system, advertising costs, subscription costs of an eCommerce platform and training staff to manage the website. Here are a few more expenses that this funding is approved to cover:
SEO audit followed by website optimizations as time allows
Expert analysis of the website and user experience
Set up a Digital Marketing Ad Campaign (SEM) – Take the initial investment out of starting up a paid marketing campaign:
Enhance your existing Digital Marketing campaign with any of the following:

Expert analysis of your existing Digital Marketing campaigns
Graphic design services to create new display ads
SEO services to perform keyword research
SEM services to set up a Google shopping campaign
Setting up Facebook Commerce and product catalogues to promote across Facebook and Instagram
Video editing services to create new marketing videos

Web design and development expertise to refresh your homepage
Develop a social media marketing strategy

Social media account audit from hashtag research to tone and image quality and post structure

Email marketing & newsletter set up

Initial setup and site integration
Newsletter template

Ecommerce improvements

Audit and optimize the checkout and purchase experience
New plugin installation and configuration
Advanced eCommerce field enhancements
Merchandising
Onsite search improvements
Online store layout optimizations (re-vamp product page layouts!)
Install and configure reCAPTCHA for WooCommerce
Set up advanced eCommerce tracking and reporting with Google Analytics
Content writing for optimized product descriptions

Building an online store and adding eCommerce capabilities
Cut a $5k project in half with this funding – this is the ideal time to set up an online store!
Who qualifies for the grant?
Does your business have at least one employee (other than the owner) OR had at least $30,000 in annual revenue in the most recent tax year?
Does your business provide in-person services to customers and is consumer-facing?
Is your business a for-profit enterprise? This can include social and cooperative businesses.
Is your business registered or incorporated?
Does your business commit to maintaining a digital adoption strategy for six months?
Does your business agree to participate in follow-up surveys, share data about the experience, and have its name published as a grant recipient?
If you answered yes to all of the questions above, you could qualify for up to $2,400 in grant funding from the Federal Government's Grow Your Business Program. Caorda is a full-service digital agency and can help you navigate through the application and approval process. If you meet all the above and would like to learn more, please contact us right away. These grants are awarded on a first-come, first-served basis.
How Does The Program Work?
The Grow Your Business Online grant gives you up to $2,400 to set up eCommerce and grow your sales online. That could be you!
Let us help you apply today!
"*" indicates required fields
What's the Grant Approval Process?
The application process consists of 3 major steps. Caorda will take the guesswork out of the entire application process. Any missed or incorrect information may render the whole application process inadmissible and void the process.
Step 1:
Determine Eligibility & Criteria
Caorda will help you to determine your eligibility and help to ensure that your business goals align with eligible services.
Step 2:
Work with a local service provider
That's us! We will ensure that the work we provide is eligible under this grant and keep detailed records for the final application process.
Step 3:
Apply for the grant
Once we have a deployment plan in place that is compliant with this grant, we'll help you apply for the grant! The acceptance for this micro-grant is very high, so getting your application in is very time-sensitive. 
Successfully receiving your grant is just the beginning! Now let's quickly plan, develop, and implement your new strategies!
Important disclaimers
Meeting the criteria does not guarantee approval for the grant program.
The following costs are ineligible for being paid for with this grant.
Internet connectivity
Shipping of goods purchased through the eCommerce platform
Purchases made prior to grant approval
Renewal of digital services such as domain names or software subscriptions (including existing eCommerce subscriptions)
Signage and printing
Logo redesign and rebranding
Owner's salary or current employee salary for executing the project
Purchase of land, buildings or vehicles
Intangible assets such as goodwill, whether capitalized or expensed
Depreciation or amortization expenses
Interest on invested capital, bonds or debentures
Bond discount
Monthly mortgage, loan and/or rent payments
Refinancing of an existing debt
Losses on investments, bad debts and any other debts
Fines or penalties
Litigation
Fees for administrators, including payments to any member or officer of the business's board of directors
Opportunity costs
Hospitality and entertainment costs
Franchise fees and/or franchise licence costs
Lobbyist fees
New capital expenditures
Consulting fees for submission of CDAP application or any costs not related to the acquisition or set-up of technology solutions
 NOTE: Caorda will not charge for assisting with the application process.