Case Study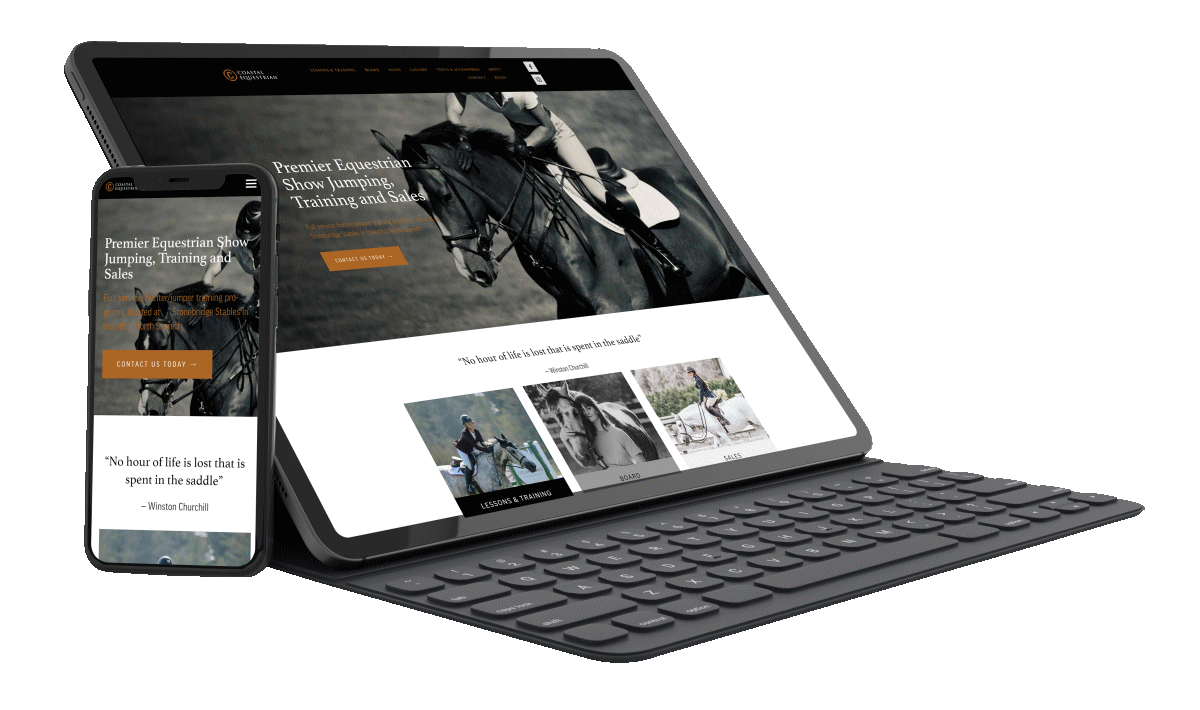 Coastal Equestrian Build is a construction company focusing on premier and custom facilities for horses. Helmed by established builder Brad Johnson, Coastal Equestrian Build brings a love of horses to every project. Brad has over 20 years of equestrian building experience and has been deeply involved in the local equestrian community on Vancouver Island. The company operates in both the Fraser Valley in Vancouver and in Victoria on Vancouver Island; the heartlands of the equestrian communities in BC. While the company primarily focuses on equestrian-focused projects, they leverage their extensive experience in building custom residential homes to create truly memorable and unique facilities.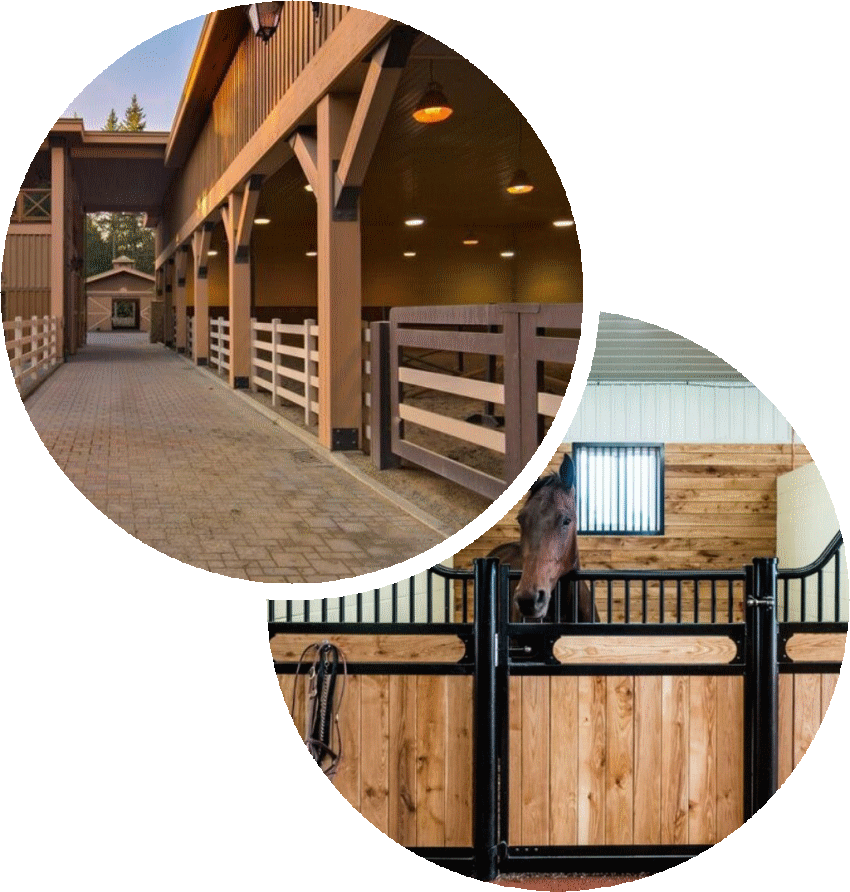 The Challenge
Coastal Equestrian Build approached Caorda in 2021 with the goal of increasing the amount of equestrian-focused project leads. Traditionally, the company received a mix of equestrian and residential requests, and Coastal Equestrian Build was keen to focus on its core equestrian business.
Caorda was tasked with creating effective Google Ads and Facebook ad campaigns to increase equestrian project leads. The intent of these leads was to book projects well into 2022 and beyond. Coastal Equestrian Build had experienced very limited success with social media advertising in the past, with most Facebook ad posts garnering lots of likes and comments, but little to no quality leads. The company's primary focus on building equestrian facilities, and a secondary focus on residential builds provided further challenges for advertising in Google and Facebook. The main challenge was how to attract leads for equestrian facilities when many high-value keywords were also associated with residential building projects. Further challenges included very specific target locations in BC, as well as locating the "right" type of potential equestrian customer.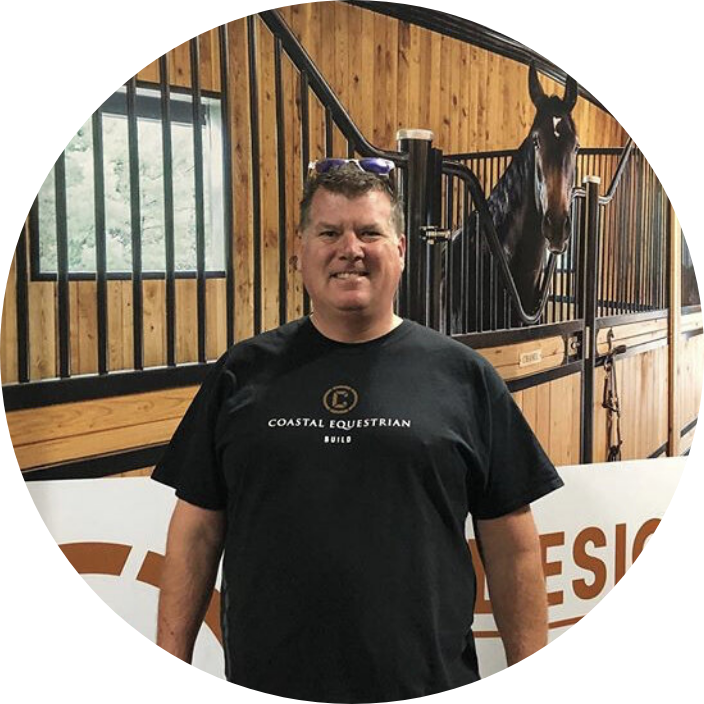 The Solution
A kick-off meeting with Brad and the Coastal Equestrian team provided valuable insight into the company's operations, core business focus and past experience with online advertising.
After factoring in Coastal Equestrian Build's budget and the cost demands of a search campaign in a highly competitive industry such as construction and real estate, we decided to promote the company's brand and services via visual-based Google Ads Display and Facebook Ads campaigns. Our experienced digital marketing team paired engaging ad copy with high-quality equestrian-focused photos of Coastal Equestrian Build's projects and products, invoking the idea of a "dream project" for horse lovers on a variety of scales, from personal stables to impressive public riding arenas.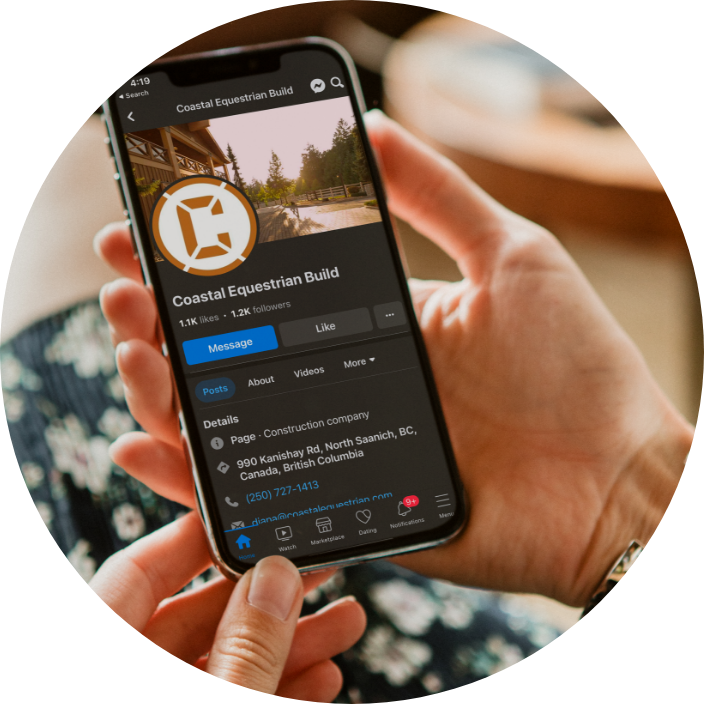 Geographic and demographic targeting was used to place the ads on both platforms in front of relevant customer audiences: Avid horse trainers and owners within the province of BC. Geographic targeting was further concentrated around specific locations that fell within Coastal Equestrian Build's area of service, with the added benefit of rationing the campaigns' spending budget more efficiently.
Early in the campaign, some hiccups arose in the form of policy flags – both Google and Facebook have restrictions on demographic targeting for ads related to the sale of real estate, and while Coastal Equestrian Build is a construction company and technically not subject to those policies, the automated systems of both platforms incorrectly flagged the campaigns' ads and restricted their ability to reach our desired audience. This was resolved through a combination of removing ambiguous imagery from existing ads, reaching out directly to our partner specialists at Google and Facebook Ads support, and updating Coastal Equestrian Build's website to more clearly reflect its status as a construction company. The flags were removed and the campaigns were able to perform to their utmost ability.
Since the main contact form on Coastal Equestrian Build's website was hosted by a third-party provider and was unable to provide meaningful feedback on where leads were coming from or how valuable they were, the Facebook campaign was set up with an inline lead form that allowed potential customers to reach out to the company without ever leaving Facebook's platform. This proved highly effective, as well as provided the campaign with additional information on what kind of users were most likely to be interested in Coastal Equestrian Build's services and reach out.
The Facebook campaign gained extra spread through social word of mouth, with users excitedly tagging their horse-loving friends to come to see CEB's "dream builds". Complementing the direct engagement of the Facebook campaign, the Google campaign focused on customers higher up in the purchase funnel via rich imagery and remarketing audiences, spreading brand awareness and encouraging users to visit Coastal Equestrian Build's website and browse their impressive project portfolio. While not all of these potential customers had a project ready to go, their experience with the business will encourage them to return even after the campaign is over, once they have a firm idea of what they want to build and how Coastal Equestrian Build can achieve it for them.

The Results
Overall, Coastal Equestrian Build was thrilled with the results of the campaign. In fact, the campaign was almost too successful as leads were converted into confirmed projects filling up the company's build schedule for the remainder of 2022. As a result, the campaign was temporarily paused and was set to resume in early 2023.
Visit the website