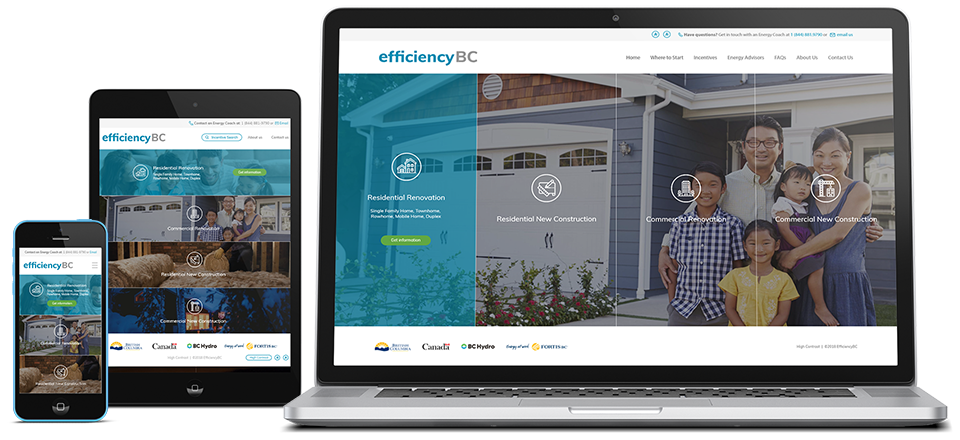 Efficiency BC
The province of BC offers numerous incentive rebates in conjunction with various municipalities, BC Hydro and Fortis BC. When looking for incentives and eligibility, it's not always clear on where to find the information that's relevant to you.
Building upon a prior Caorda website, BC Home Energy Coach, the client approached Caorda with the need to expand from servicing existing residential homes to including residential new construction, existing commercial buildings and new commercial buildings. The new website was to be named Efficiency BC. Although the BC Home Energy Coach website included a simplified incentives search tool, the new website covered far more rebate programs and a more in-depth search tool was needed. In addition, the custom FAQs section was converted to accommodate for multiple building types.
The new website is an excellent resource for British Columbians looking for rebates on popular energy incentives. The incentives search tool is both visually pleasing and easy to use, with multiple filter layers for the hundreds of available incentives. If users need to contact an energy coach or Program Qualified Energy Advisor, there are custom tools implemented in the site to find an advisor who is both close to you and provides the appropriate service. Check out the incentives search tool here: https://efficiencybc.ca/incentives/ 
The new website features a logo design from Caorda, along with a custom designed homepage to direct users to the correct building type. Caorda's digital marketing team transitioned the entire BC Home Energy Coach website to Efficiency BC, maintaining all search engine history.
https://efficiencybc.ca was launched on September 28th, 2018. You can read more about the Efficiency BC program in the Provincial Government news release: https://news.gov.bc.ca/releases/2018EMPR0052-001891
Caorda continues to enhance the Efficiency BC website, as it has now become one of the flagship programs under the Clean BC climate and economic plan, rolled out by the Provincial Government in December of 2018. 
Visit the website