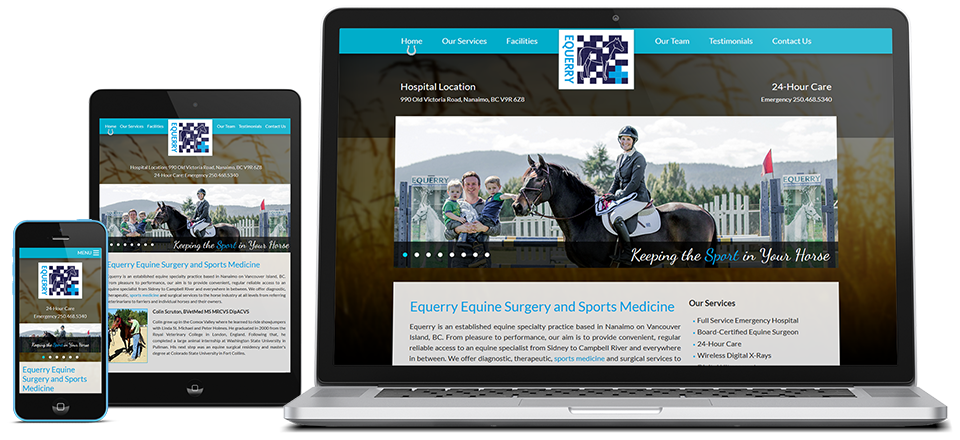 Equerry – Equine Surgery & Sports Medicine
In early 2016, our team had the pleasure of working with Dr. Colin Scruton to create a fresh new responsive site to replace the outdated one.
Equerry is an established equine specialty practice based in Nanaimo, providing convenient, regular, and reliable equine care across Vancouver Island. They offer diagnostic, therapeutic sports medicine and surgical services to the horse industry at all levels, from referring veterinarians, to farriers, to individual horses and their owners.
Equerry's owner, Dr. Scruton, came to us needing a replacement for his stagnant Flash-based website. He knew he needed something modern and mobile-friendly, and he wanted to make sure any future website edits would be easy for his staff to make. WordPress was considered, but in the end he and his staff felt more at home with the Umbraco CMS. Umbraco is another CMS we use quire often at Caorda. Its user interface offers a simplistic and intuitive environment, and the back-end provides some flexibility for our developers, which suits some website better than others. Learn more about Umbraco »
The new website featured pages for testimonials, veterinarian and staff bios, facility descriptions, patient forms, and more. This project was a great success, and even helped to bring in more equine business here at Caorda. (Now, if we can just get our staff to stop 'horsing around'.)
Visit the website