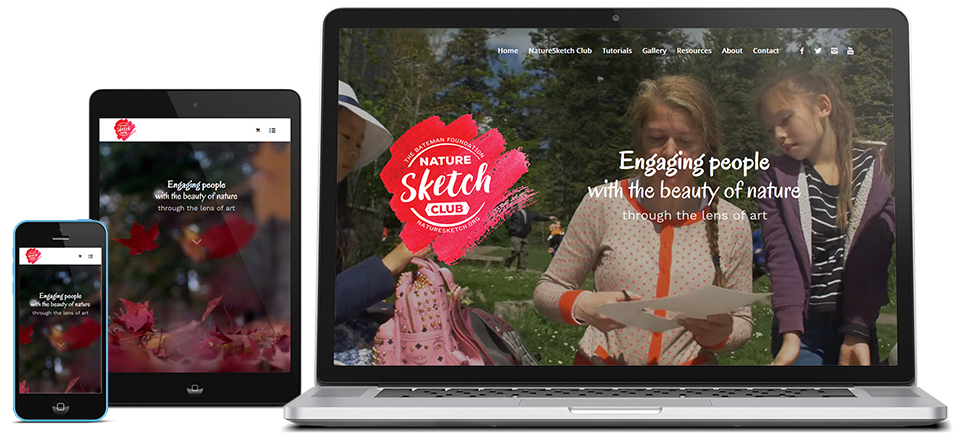 NatureSketch
NatureSketch Club is a growing program run by the Robert Bateman Foundation in Victoria, BC. Beginning with just a summer junior program in Victoria, the Robert Bateman Foundation has opened up the program across Canada and has expanded classes to include programs for teens and adults. NatureSketch sessions are guided by a sketch artist and naturalist, and encourage participants to connect with natural environments in their local community using a pencil and sketchbook.
The Challenge
In the spring of 2017, Caorda was approached by the Robert Bateman Foundation to create a dedicated website for the NatureSketch program. Initially, it was promoted directly on The Robert Bateman Centre website, but it was difficult for users to find and learn more. The organization planned to expand the program across Canada, and needed a website destination to showcase the program effectively. The challenge was to create a website that emphasized the natural beauty of Canadian flora and fauna, while featuring a program sign-up form and video tutorials of Robert Bateman himself.
The Solution
Caorda got to work defining the Foundation's needs and recommended a strong homepage presence with the use of beautiful video. Roll.Focus Productions worked with the Foundation to create the video tutorial clips featuring the renowned Canadian artist, and then Caorda was gathered short clips from the videos and showcase them on the homepage, creating a sweet "WOW" factor when users first visit the site. The NatureSketch program continues to gain more and more traction across Canada. With Spring and Summer classes approaching, people of all ages can take advantage of these Robert Bateman inspired sessions.
In early 2018, Caorda added enhancements to the site, enabling it for eCommerce and facilitating program registration payments for the Foundation. We're looking forward to helping NatureSketch take off!
Visit the website