Case Study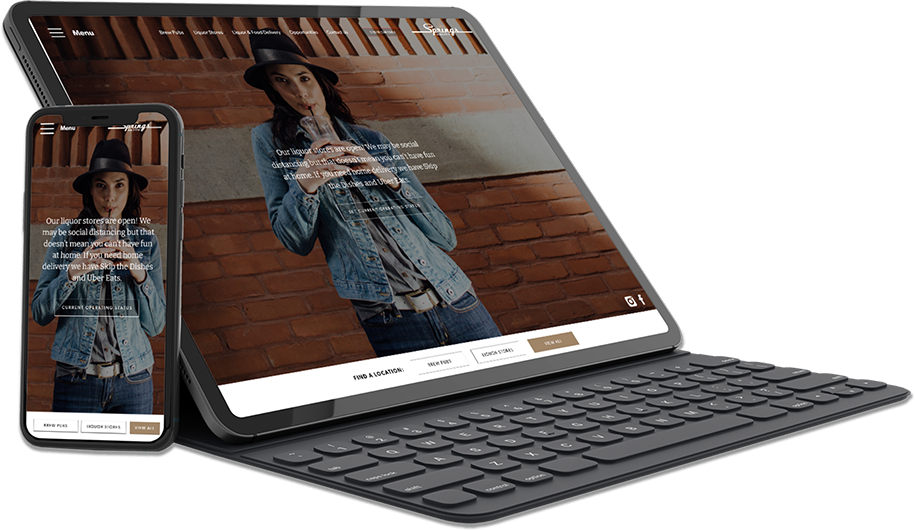 Since a humble beginning in 1981 with one of the first cold beer and wine stores in BC, Springs Group has become a local leader in neighborhood liquor stores and restaurant brewpubs. The company has twelve liquor stores, three restaurant brew pubs and one cannabis retail store across Greater Vancouver and the Fraser Valley. Springs Group is committed to establishing strong connections, a sense of community, and facilitating the enjoyment of beverages, food and cannabis products. They continue to grow and expand operations.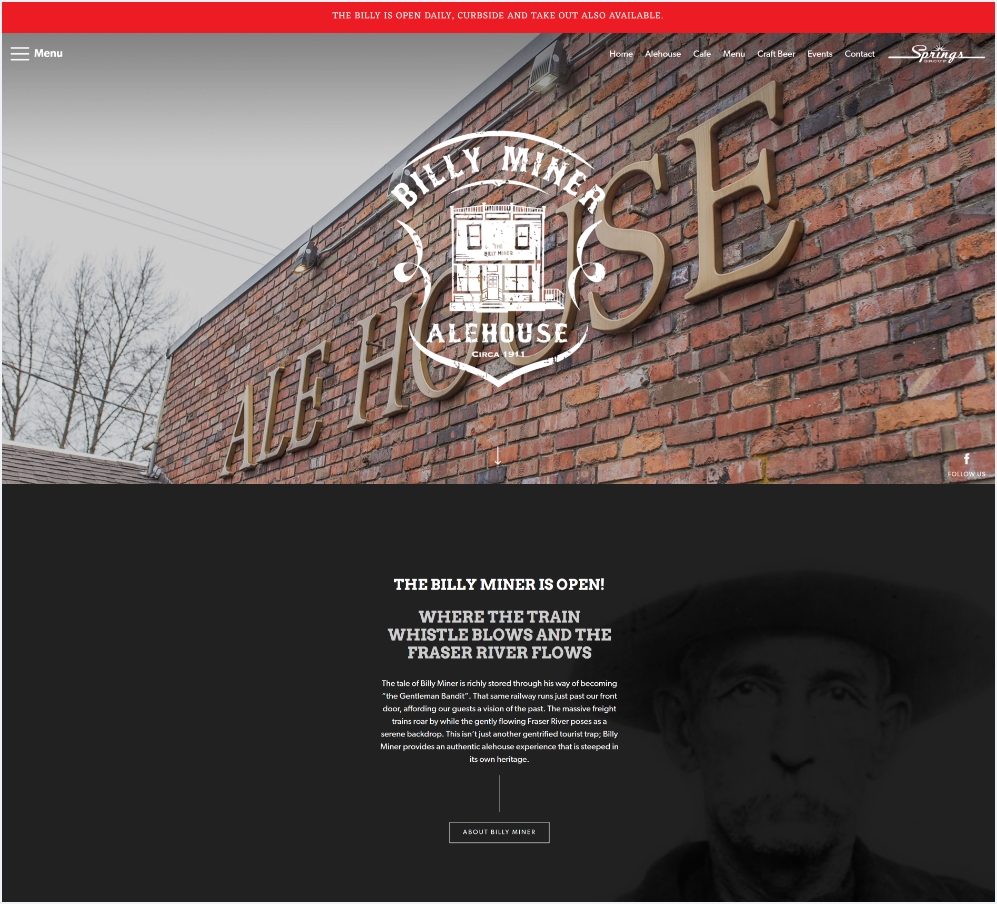 The Challenge
The company decided to brand itself as "Springs Group" so they could leverage a common brand across all of its liquor stores, restaurants and cannabis shops. Some locations had websites, but most did not. They were lacking a cohesive online presence and strategy. Springs Group was referred to Caorda. They invited us to tour the various restaurants and pubs throughout Vancouver, and to submit a proposal for the creation of a website to market all of their liquor stores. Having first-hand exposure to the Springs Group experience helped us determine what the company needed for a web presence. The rest is history, as Caorda was selected as the successful vendor. The biggest challenge was harnessing the organization's numerous locations and different services, while creating a easy-to-navigate web presence that showcases the company as a whole. Because Springs Group was on a mission for growth and expansion, it was important to create a framework that could support new locations.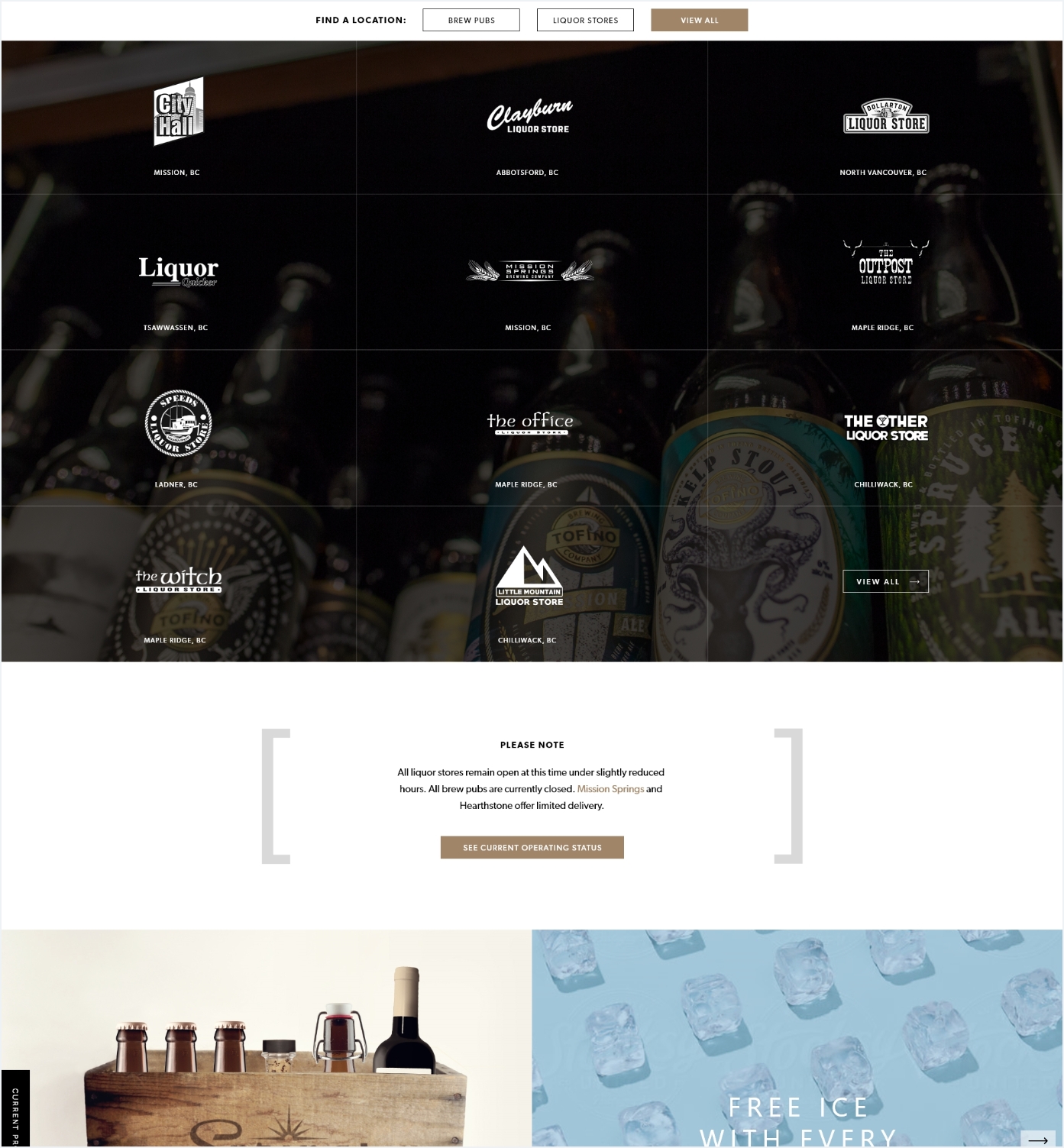 The Solution
The first step was to get temporary websites in place for all the liquor stores. The old websites had been afflicted by a hack, which sent a negative user impression when first viewing the sites. We got to work quickly, and within days we had developed six new WordPress sites to ensure each location had an immediate web presence. Next, our design team expertly researched the marketplace and turned the Springs Group brand into a stunning new website design. When the new site was ready to launch, our digital marketing team meticulously organized a transition plan for all the small liquor stores sites, so that every indexed URL would be redirected to the appropriate location page to create a flawless user experience.
The end result was a custom-built WordPress multi site website with a stunning design to differentiate the company from its competitors and appeal to its various target markets. The key focus is the engaging imagery, which builds connection and community–exactly what Springs Group is all about! Caorda was thrilled with the project and thoroughly enjoyed working with Springs Group to showcase its breadth and commitment to quality.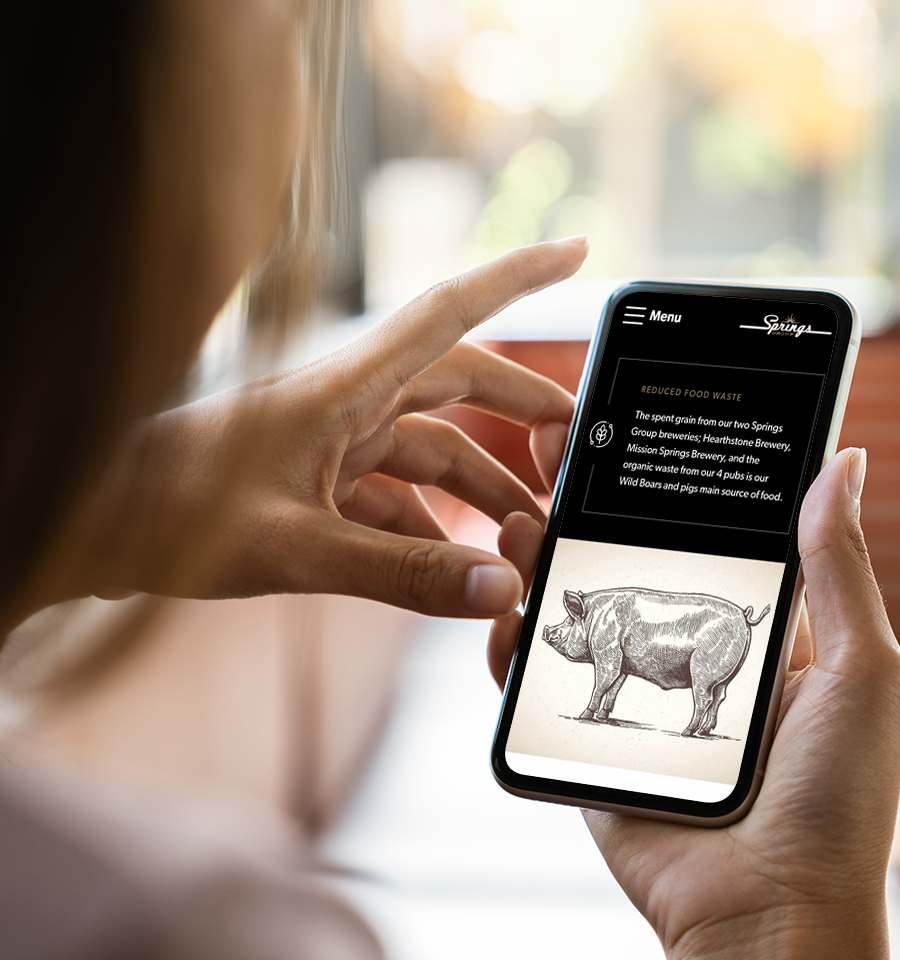 A Focus on Mobile Users
Springs has over 80% mobile user base for their website traffic. This high volume of mobile traffic is most often looking for food menus for Billy Miner, Witchcraft or Mission Springs. The menus need to be easily found on the site and well formatted for the small screen display. Other customers are looking to visit one of the 12 convenient liquor store locations and are in a rush to find operating hours or the location address… quickly. Or, they come to the website to place a delivery order using UberEats or SkipTheDishes and need to find the order page to satisfy their hunger pains. The well designed mobile layouts make it easy for customers to get what they need, on-the-go, without getting frustrated.
Growth Using Digital Marketing
After the launch of the new site, Caorda focussed on ensuring all Google Business pages for all locations were properly set up and optimized. Google is often the first experience for customers, so it is important that all information is up-to-date. Search Engine Optimization was a priority to ensure the website maintained a top ranking for key search terms. In the competitive food and beverage industry, capturing search traffic was important to help Springs Group reach more customers. One of the most popular phrases that quickly garnered traffic for the site was "liquor store near me". Next up was adding email marketing communications to allow a regular delivery of product promotions to customer's inbox. Utilizing the popular Mailchimp platform, Caorda designed a branded and reusable template for monthly email newsletters. The promotional graphics used in the emails were also utilized across social channels. Caorda has worked closely with Spring Group's internal marketing team to execute these regular promotions. In addition to digital marketing, Caorda has helped Springs Group with many branding and marketing projects including VIP cards, gift cards, drink coasters, pizza boxes, reader board product promotional displays, and shopping bags.
Expansion to Cannabis Market
Springs Group has expanded outside the food and beverage industry and into the cannabis retail sector. Caorda assisted Springs Group by establishing a new brand Cheeky's Cannabis. Caorda provided graphic design services for the new brand and logo as well as helped solidify the brand vision for the store interiors. A new website was created for the new Cheeky's location in Maple Ridge. Plans for more locations are in the works as Springs Group continues its growth and Caorda is proud to help them achieve their goals.
I would just like to thank the entire team at Caorda. These past long months the team at Caorda have been by our side, offering to help whenever and however with their expertise.. it truly goes beyond that.
Over the years they have been helping us grow the Springs Group Brand! The work they do is amazing, from creating Digital Board ads to our entire Website! Just to name a few other things… Pizza Boxes, Newsletters, Business Cards, Blogs, Giftcard/VIP Card Designs, Coasters, Email Signatures, SEO, Social Media Support, Graphic Support and Design, the list goes on. 
We ask Lorne and the team for the craziest requests, and they pull it off! I closely work with Jade, him and I create Newsletters and Blogs; I appreciate how our projects are important to him and we get them done efficiently with a little laughter.. of course. Count on Caorda to build those relationships, everything they do they put passion into it. The updates/follow ups are very descriptive, making sure they get every point, and they will not make any changes without approval. The graphics are always top notch, it is very rare that we have edits, which means they get us, our brand and really capture what we are looking for each time. 
It's been a pleasure working with the Caorda team and I look forward to continuing to work with them!
Tanya Weber
Springs Group Media Coordinator