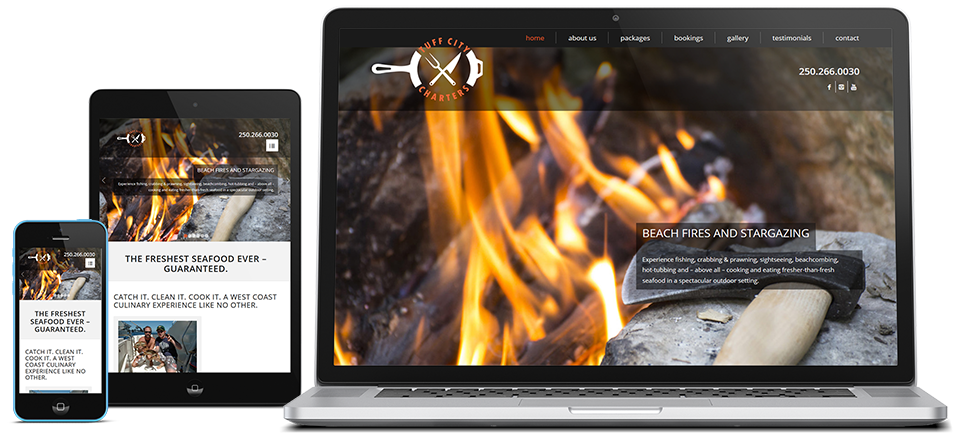 Tuff City Charters
Tuff City Charters (Tuff City) is a brand new venture based out of Tofino, BC. The company takes a unique spin on traditional fishing charters: instead of guests just participating by fishing and harvesting seafood for future consumption, Tuff City takes this a step further by providing the environment for guests to cook and eat their fresh catch on the beach just moments after the seafood is caught! Sounds pretty darn good, doesn't it?
Guests are encouraged to take part in the catching, cleaning and cooking process to get the full Tuff City experience. However, they are more than welcome to relax by the sea (and have an outdoor hot tub session) while the Tuff City grillers prepare fresh seafood for consumption. Tuff City Charters offers full day charters and overnight packages for those that want to spend the night under the stars in tensile tents. The charter company also gives back to the community, offering Son and Mom (SAM) fishing days 2-3 times per month at no charge. Since dads are more likely to take their kids fishing, Tuff City wants to encourage single moms and their children (daughters are welcome too!) to experience a fantastic day fishing in the Pacific Ocean.
The Challenge
Brad McAfee, owner of Tuff City Charters, approached Caorda with a well thought out business plan and marketing materials. He needed a web design company to take his vision of Tuff City Charters and bring it to life online. We leapt with excitement when first hearing Brad's business idea, as we knew it was a winner and we wanted to be the ones to create a phenomenal looking site for his business.
The Solution
We got to work to create a rustic and nautical website that represented Tuff City Charter's brand image. Brad provided spectacular imagery and content; it was our job to style the site to convey the company's one-of-a-kind charter experience. The brand new website is mobile responsive and has a foundation of SEO tools to help the site in search rankings. Our goal was for users to visit the site and be "wowed" with the design. We think we've done just that! Are you ready for your cooking charter adventure?