Case Study
Our Place Society provides hope, belonging and a wide variety of services to the most vulnerable people in Greater Victoria, including those experiencing homelessness, addiction, mental health challenges and poverty. Our Place provides over 1,000 meals every day, manages housing and traditional shelter spaces and provides hot showers, education, job skills, counselling, addiction recovery services, health care, counselling, outreach and more.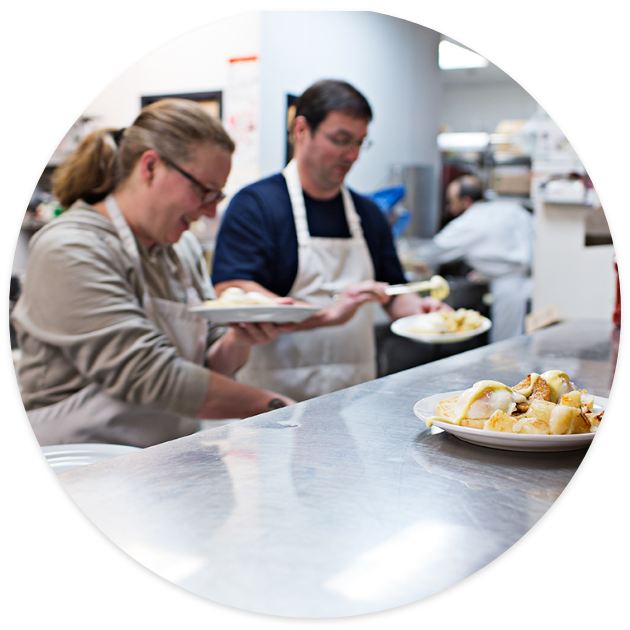 The Challenge
Our Place had a Drupal site that was ageing and they wanted to both refresh the design of the site as well as move to WordPress to make the site easier to manage for their team.  A huge amount of content on the existing site needed to be kept, but reorganized, to make it more logical and accessible from both the front and back ends of the site. A variety of team members in different departments needed to be able to access the back end of the site to keep it up to date with job postings, stories, fundraising campaigns and events.
Our Place also needed to ensure that their donation forms – built with Blackbaud Raiser's Edge – were easy to find for donors and could be embedded in different places on the site, as they use multiple different forms for different campaigns to make tracking easier.
The Solution – Website Update
Once the strategy and requirements were defined, Caorda's designers got to work right away on a new home page design using some wonderful new photography that Our Place provided as well as bright colours to make the site engaging and welcoming.  Concurrently, the Caorda team worked on creating a hierarchical site map of the current site and developed a plan to reorganize it and create a transition plan so as not to lose any SEO rankings. 
Once the beautiful new design was finalized, the developers got to work implementing the new styling and migrating over the content as per the new site map.  Clear calls to action and donation forms were added throughout the site. Custom post types were used with clear colour coding to make events, stories, and news items easy to add and easy to distinguish. 
The new site provides a warm and welcoming user experience with a clear layout and easy-to-find information on the wealth of services Our Place provides to our community.  The detailed transition plan and work from the digital marketing team ensured that their strong SEO ranking remained when the new site launched and positioned Our Place to fully leverage their Google Ads Grant.
Since taking over the Google Ads management for Our Place Society, Caorda has directed nearly 15,500 clicks to the website and their ads have been seen over 270,000 times.
Ongoing Support & Google Ads Grant Management
Caorda's work didn't end once the new site launched. Our Place has engaged Caorda for its website hosting and ongoing maintenance and support.  Caorda's team helps out with any tricky additions to the website as well as with graphic design support for new events and community initiatives.  Caorda's digital marketing team has taken over managing Our Place's Google Ads, in particular, the Google For NonProfit Ads grant they were awarded which provides thousands of dollars in ads each month.
Since taking over the Google Ads management for Our Place Society, Caorda has directed nearly 15,500 clicks to the website and their ads have been seen over 270,000 times. We know we're making a difference and the grant from Google is playing a huge part in helping Our Place provide its desperately needed social services to the more vulnerable people of Canada.
"Launching a new website always brings a number of understandable worries, but working with the team at Caorda helped ease our concerns and made the process painless,"
– Grant McKenzie, director of communications for Our Place Society.