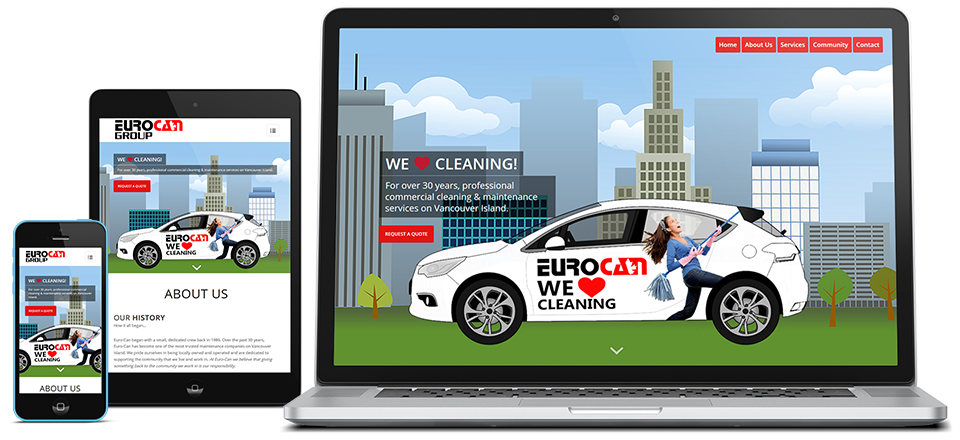 Euro-Can Group
Euro-Can Group is a local Victoria commercial cleaning and maintenance company that provides services to government agencies and property management companies. Founded in 1986 by a small crew of workers, Euro-Can now employs over 30 full- and part-time staff members. In late 2016, Euro-Can Group experienced a website shutdown after its website CMS was suddenly discontinued. The website was an empty shell, and Albert, the owner of Euro-Can, reached out to Caorda through a form on our website to see if we could help.
The Challenge
Our first action was to quickly research why the website was offline. It turns out the website was using a platform called Drupal Gardens, which had shut down as of August 1st, 2016. Our first action was to quickly get a temporary splash page set up for the business so no inbound leads were missed. Even though the immediate crisis was over, we spurred into action to create a proper website for Albert and his team.
Solution
Euro-Can's content was difficult to gather as the site was offline; however, we were able to rescue the majority of the text through the Internet Archive. Thank you, technology! Euro-Can's previous site had a cool-looking car wrap on the homepage, and our Photoshop wizards was able to not only re-create the image, but also modernize it and make it the key feature for the new site. For the website platform, we decided that WordPress was an ideal choice because of its ease of content tweaking for the client. As for the content, our marketing team cleaned up the text and implemented new images to give the site more pizazz and flair. Our SEO specialists also jumped on the site to optimize it for the commercial cleaning industry.
Caorda now hosts the website and is thrilled to be Euro-Can's go-to web design company. Euro-Can was great to work with and we look forward to helping Albert with his website needs for years to come!
Visit the website