If you are using Caorda's Outgoing Mail (SMTP) servers instead of your Internet Service Providers SMTP servers for sending email, please follow the instructions below.
Step 1
Start setting up the new email account by filling out the general user information fields like your name, email address and password. When you are prompted to enter the server information use the following:
Incoming mail server (POP3) field enter: pop.caorda.com

Outgoing mail server (SMTP) field enter: relay.caorda.com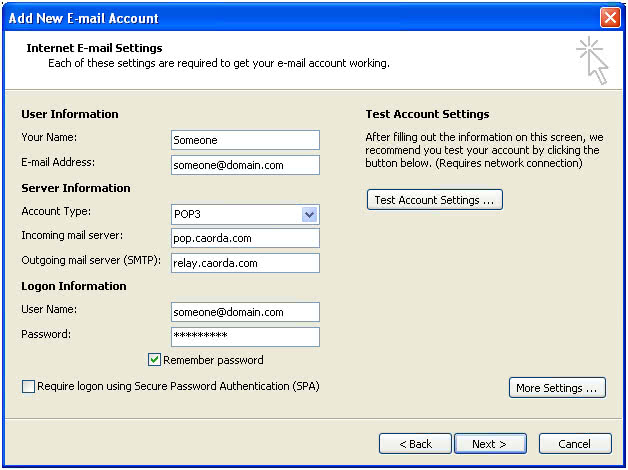 Step 2
Click the More Settings button and in the Internet E-mail Settings dialog box, choose the Outgoing Server tab:
Check the box for: My outgoing server (SMTP) requires authentication

Select the option: Use same settings as my incoming mail server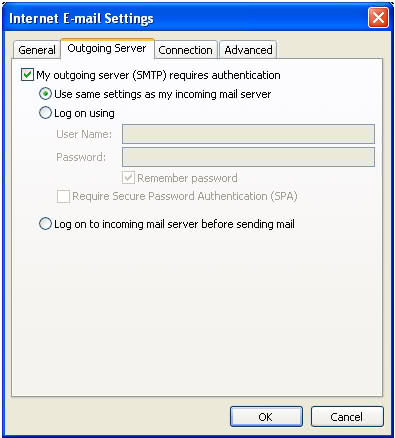 Step 3
Now, choose the Advanced tab in the Internet E-mail Settings dialog box. Enter Server Port Numbers as follows:
For Incoming server (POP3) enter: 110

For Outgoing server (SMTP) enter: 587
Please note that for Use the following type of encrypted connection, if you set it to None, your connection will be faster than an encrypted connection.  For Delivery, you can choose to Leave a copy of messages on the server, and then select to Remove from the server after a number of days. (For more details on Delivery, click here). Click the OK button.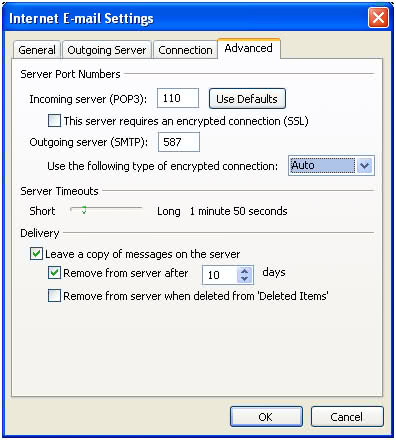 Step 4
After filling out the information, we recommend you test your account by clicking the Test Account Settings button.