Blocked & quarantined e-mail
Incoming e-mail is automatically scanned and if detected as known spam or if it contains a virus, the e-mail will be blocked for your protection.  E-mail that is only suspected as spam will be put into a Spam Quarantine and you will be sent a Spam Quarantine Summary e-mail similar to the sample below.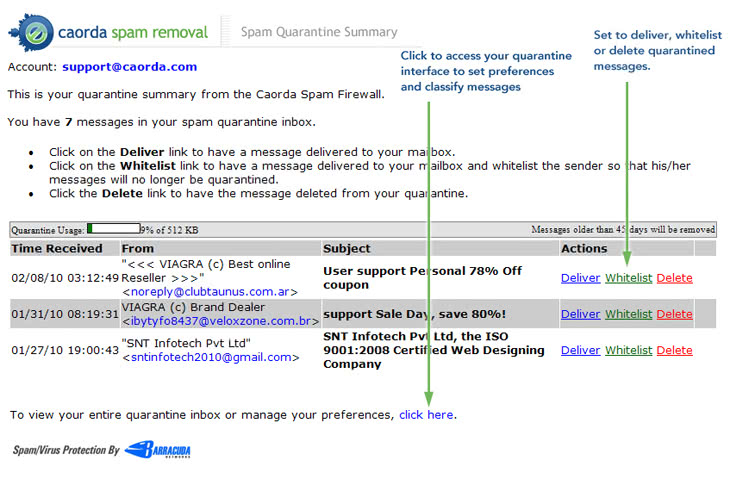 You should scan this Spam Quarantine Summary e-mail to see if any intended e-mails were caught in the filter.  If you find e-mails you want, you can click on Deliver next to the desired e-mail and the e-mail will be delivered to you. By clicking on Whitelist you will add the respective e-mail address to an approved list to ensure safe acceptance in the future. To log into the Quarantine interface, click on the link at the bottom of the quarantine e-mail, click on the desired action or log into the Caorda Spam Firewall using your e-mail address and password (if it is your first time logging in you will need to create a new password).  When you click on a link in the quarantined e-mail you are granted a one-time use password.  Future access must be done by logging into the Caorda Spam Firewall. For more information on managing your Quarantine Inbox, download the complete Barracuda Spam Firewall User Guide (.pdf)
The anti-spam firewall provides the following protection:
anti-spam
antivirus
anti-spoofing
anti-phishing
anti-spyware (attachments)
denial of service
In order to ensure you get the most out of your hosted email we have put together some spam firewall support information including links to the product manuals for further reading.