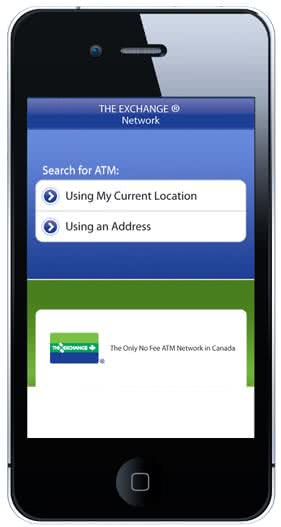 Caorda is pleased to announce they have built a new iPhone app for THE EXCHANGE® Network of No Fee ATMs. This new application for Apple® mobile platforms enables customers to quickly find the most conveniently located ATM near them using their iPhone or iPad mobile device.
"We are delighted to once again work with Caorda to develop an iPhone application that will enable cardholders of the 225 financial institutions that belong to THE EXCHANGE® ATM network to find a conveniently located ATM anywhere in Canada." stated Linda Matheson, Network General Manager.
"As the country's only surcharge-free ATM network the added convenience for members of THE EXCHANGE® ATM network to be able to use their iPhones to find a surcharge-free ATM will be very beneficial and desirable. Caorda is the perfect partner to bring technology solutions such as this to market. They are very adept, quick to respond and provided invaluable guidance and support to ensure the best possible end result."
THE EXCHANGE Network ATM finder application is available for free download from the App Store . 
Learn more about Caorda's iPhone, Blackberry and Android application development services >>