Caorda Faces the Easter Seals Drop Zone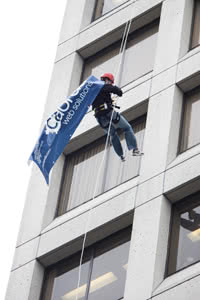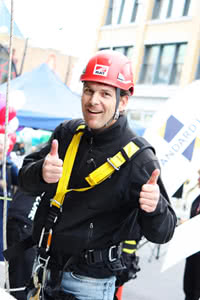 With Caorda Web Solutions being a Major Sponsor and supporter of the BC Lions Society, it is no surprise that we dropped everything to be a part of today's Drop Zone event in downtown Victoria.
Paul Johnston, Caorda's President, joined 49 other brave volunteers in rappelling off the CIBC building at 1175 Douglas St. He conquered the task as our very own Caorda Superhero draped in the Caorda cape. The day provided Easter Seal House with donations to help children with disabilities on Vancouver Island. Come out next year and watch people in terror come down the building and support this great cause!
Caorda Web Solutions provides many web sites for the BC Lions Society, including The Easter Seals Regatta, Eagles in the City, 24 Hour Relay, Terracotta Warriors and the main BC Lions Society For Children with Disabilities web site. The various web sites include Custom Development, Web Site Design, Web Site Development, hosting and more!