CASL – Canadian Anti Spam Law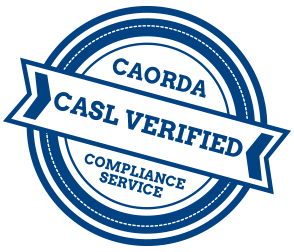 The new Canadian anti-spam legislation or CASL has been a very important topic for online businesses this week and Caorda Web Solutions is busy making sure we have answers and services to assist with the required changes.
To be honest this isn't limited to online businesses or even just email. The new anti-spam legislation will apply to all electronic communications with very few exceptions. Think that your contacts on Facebook all fall into the exception of 'friends'? Not exactly..
The mere use of buttons available on social media websites – such as clicking "like", voting for (or against) a link or post, accepting someone as a "Friend", or clicking "Follow" – will generally be insufficient to constitute a personal relationship.
Where the messaging services qualify as 'instant messages/chat' and the required identification and unsubscribe mechanisms are clearly published on the user interface the service is potentially exempt from CASL. In any situation where there's doubt, rather than risk a healthy list of followers, I would urge businesses to instead use CASL approved email contacts for advertising efforts.
Speaking of the risks, earlier this week Caorda's Lorne Neil posted a quick blog entry titled "New CASL Compliance Service Announced" that put a lot of emphasis on the $1 million fine for individuals and the $10 million fine for businesses.
While few of us have millions of dollars to throw away at fines, after spending many hours reviewing the information I have to admit something even more frightening looms within the CASL legislation.
Lets take a moment to think about how the average user reacts to spam or Commercial Electronic Messages (CEMs) now vs. how they will react after July 1st 2014, once they know there's penalties for spam? My assumption is that if I am sending out CEMs/spam to Canadians who haven't given express consent, those users are far more likely to mark my email as spam. The issue of spam flagging only gets worse if the opt-out mechanism isn't present, doesn't stand out clearly, or is lacking in functionality.
As the musician Arlo Guthrie once sang, "If one person does it, nobody pays attention, … but if a whole group of people does it, well then it looks like a movement", and Arlo didn't even know about the Postini anti-spam network that Google and many other popular services use to share spam knowledge. 
Once CASL legislation comes into effect on July 1st 2014 online advertisers ignoring the new Canadian anti-spam law could quickly get blocked or blacklisted from a wide audience rendering their emailing efforts a waste of time. Given the scope of damage that such a situation can cause a business, it's clearly as important or even more important to recognize that your email recipients need to agree/remember that they opted into the communications.
Express consent isn't something you get quickly without engaging the user, even if the name suggests otherwise. Virtually any opt-in method where the user is not taking direct action to agree to specific content should be looked at as implied consent to remove any doubt that users agreed to consent. So even if you've been paying for email list validation services, you need to make sure the service follows CASL rules and doesn't fall into the implied consent category.
The Canadian Radio-television and Telecommunications Commission (CRTC) has published Bulletin 2012-548 which defines the level compliance they expect for express consent including images showing the level of user interaction expected. If you want to stay on the safe side of this new Canadian spam law, don't be lazy with your opt-in forms.
Some businesses are even giving away prizes/coupons for users who opt-in but aren't using an opt-in method that ensures express consent was obtained and the onus is on the sender of the spam/CEMs to prove consent. If the sender cannot prove they obtained consent it opens them up to the fines we discussed earlier. 
One of the easiest ways to avoid disputes over proof of consent is to employ a 3rd party witness. By having someone else involved who has records of the email addresses that were expressly consented, the date of the consent, and copies of the consent method, a business should be as protected as is reasonably possible without going to extreme lengths.

Caorda Web Solutions not only offers a new 3rd party express consent CASL Service, we're also developing options for easily integrating opt-out mechanisms into your current email solutions with minimal fuss/setup. 
CASL rules aside, even if you're a School/Community Organization, Religious Group, Political Party, or other exempted group, compliance with the opt-in methods is a great idea just to avoid blacklists. More importantly, making sure there's a very clear/visible opt-out mechanism in your emails is clearly a crucial step to continued email campaigns after July 1st.