Many of us use Google when we search online, which is why Google Ads and Paid Search management is one one of the areas of focus for Caorda's digital marketing services. However, there is another search engine ad platform besides Google Ads that can be utilized in order to go after even more search traffic, and which can also be used to effectively grow business! Caorda also uses the Bing Ads search advertising network to tap into more search traffic. Read on to learn more about this ad platform and why it should not be overlooked.
Have You Heard Of Microsoft's Bing and Bing Ads?
Microsoft owns Bing, which includes the Bing.com search engine as well as the Bing Ads ad platform. Below you will learn more about the Bing search engine, Bing Places For Business, and the Bing Ads search advertising network.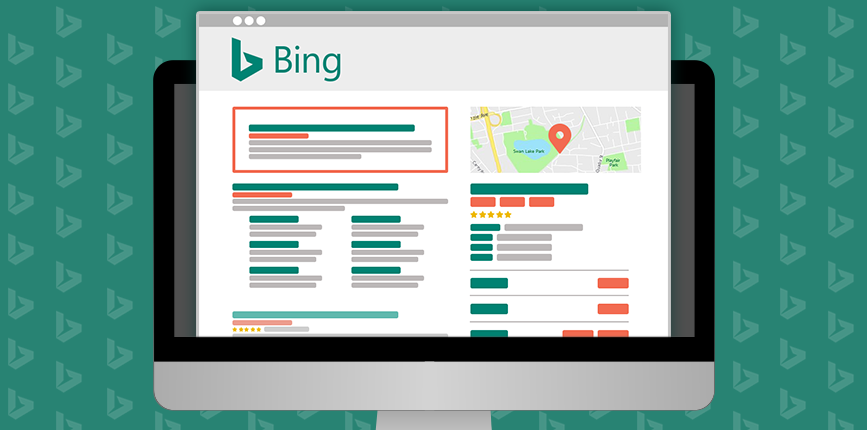 The Bing Search Engine's Market Share
Many people have heard of Bing (the "other" major search engine in North America), but many underestimate how powerful Bing can be. Just like Google, Bing is also a major search engine that many people use to conduct their daily online searches. In fact, Bing has about 33% of the market share of online searches in the US, about 16% in Canada, 23% in the UK, and more market share in other countries and regions too, including Europe, Oceania, and Asia.
Bing's Search Engine Results Page (SERP)
As you can see below, the search engine results page (SERP) that Bing produces when users search on Bing has many similarities to Google's SERP. We can see blue links with green URLs on a clean, white background. We can also see site-links for specific results, and also a Bing Places For Business section (for businesses that have registered & verified).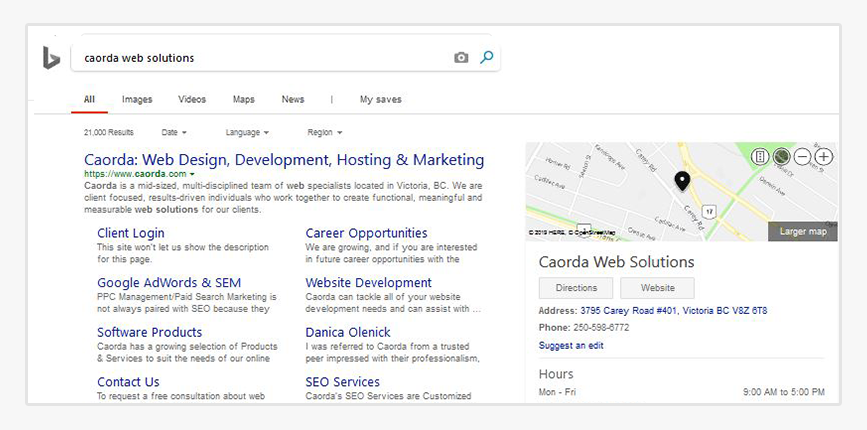 Bing Places For Business
Bing also has a "Bing Places For Business" which acts the same way as Google My Business does! Both are great ways to have an even greater presence on search engines when users are searching for your business brand online. 
Google My Business: What Is This?
The Bing Ads Search Advertising Network

Bing Ads is an ad platform that taps into this search traffic, just like Google Ads is used for Google search traffic. This means that businesses can utilize the high-quality search traffic volume found within Bing's search engine to capture the attention of potential customers while they are searching for information/products/services related to their business online. This is the same strategy used with search ads using Google Ads. So if a business is having success with search ads in Google Ads, there is a good chance for success with search ads using Bing Ads too! 
Use Bing Ads to Tap Into AOL Search

Yes, AOL is still around. In fact, Bing Ads took over serving ads and organic results for searches on AOL.com back in 2015! That means that when you use Bing Ads, you are also tapping into traffic across AOL's searches too.
Use Bing Ads to Tap Into Yahoo Search
Verizon Media and Microsoft became exclusive ad partners in early 2019, making Microsoft's Bing Ads the exclusive search advertising platform for Verison Media properties, including Yahoo.

Yahoo used to be one of the largest online media brands around. Despite facing growing competition from other search engines and publishers online, Yahoo still has a massive network of users. This network has the ability to provide value to many businesses looking for extra marketing reach. Using the Bing Ads platform, businesses can advertise within the Yahoo network with search ads when users perform searches on Yahoo.com. 
Remember, Google Is Still #1 In North America for Search
Remember, Google.com is still the leader in market share for online searches in North America. This is especially the case when it comes to mobile traffic. Because of this, Google Ads should be a focus before Bing Ads. Businesses can take advantage of Google's massive search volume in a few different ways; by investing into search strategies like search engine optimization (SEO), getting a Google My Business account, and by also participating in Google Ads. If you haven't checked-off all 3 of these areas for your business, you definitely should! If you have, however, it's time to take those same ideas and implement them into Bing Ads to access additional search traffic!
Are Your Ready to Get Started with Bing Ads?
There is a ton of traffic online every single day, and there are many different ways for businesses to tap into that traffic. Google is a well-known medium for businesses looking to attract online traffic, but there are other great mediums with a good amount of traffic too. Just like Google Ads can be a very effective way to leverage the search traffic online, Bing Ads can be used to effectively penetrate the rest of search traffic, especially since Bing Ads not only taps into the Bing search engine, but also searches on AOL and Yahoo too. This makes Bing an excellent choice for businesses looking to take their marketing reach beyond Google. Speak to a Caorda digital marketing expert today to learn more about Bing Ads, and how they may be used to grow your business further!