Every business should get to know their Google Business Profile (GBP), (formerly, Google My Business – GMB) inside and out and you should continue to update and engage with your GB profile. This post goes into detail on what your Google Business Profile can do for you, why your business should have an active GBP account, and how to actively set up and manage the account.
What is a Google Business Profile?
On the right-hand side of search results, Google displays a local business listing previously called Google My Business to show specific business information. These listings appear when Google assumes that a searcher is looking for a particular business name. Google Business Profile, is more important than ever. This convenient feature gives searchers access to important business information right away – without having to leave Google search. The section will provide access and links to important information about your business, such as a link to the website, business directions, hours of operation, etc… Here's an example of what you might see below.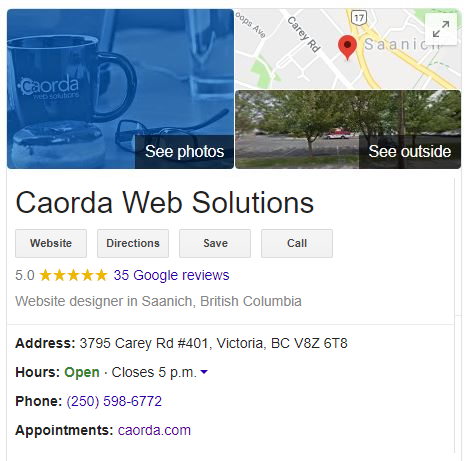 This is a search strategy (SEO), so we include GBP activation & management as part of our Search Engine Optimization (SEO) work.
That's not all, your Google Business information is used to populate information in Google Maps. This is even more important as this is where you might attract NEW business. By ensuring that your business information is up to date, you stand a much better chance of showing up in the local search results. These are the listings that show up in a section called the Local Pack. The box of business listings in a Google Search. Here's an example:

The Benefits Of a Google Business Profile
The main benefit of a Google Business Profile is to make it easier for customers to engage with your organization. The quicker it is for potential customers to find your business information (website, business hours, phone number, address), the easier it is for them to interact with you. Your business is guaranteed to see increases in website traffic, phone calls, and general business activity once a GBP account is created and your information is verified. These increases will be coming from current clients – and from new clients too – especially if you can encourage customers to leave Google Reviews for your business.
The Benefits of Your Business Profile
Include up-to-date business hours
Your business location, once verified, will be displayed on Google Maps
Your business may show up for 'non-branded' local search queries
Add unique, detailed business descriptions
Upload business photos to showcase your business
Upload videos that showcase your business
Offer custom coupons for your customers
Real-time updates can be added, such as timely specials and important announcements
Other types of Posts can be added and featured
Get incredibly important Google Reviews for your business (see below)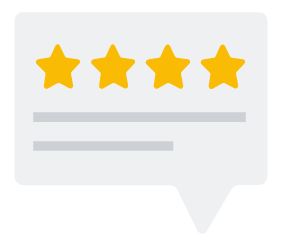 Google Reviews Can Boost Your Business Reputation
When potential customers are researching businesses, reviews from previous clients can have a HUGE impact on whether they decide to become a client. In fact, close to 90% of customers put just as much weight on online reviews as they do with personal recommendations. Also, reviews can produce an uplift of 18% in sales on average. There are other ways how reviews influence consumers too. Google Reviews is one of the largest – if not THE largest – reviews platform currently available. This is a very important section for any businesses' Google My Business account.
If you haven't left Caorda a Google review yet, consider sharing your experience. We love your feedback!
Try it out if you have a spare moment.
Setting Up and Managing Your Google Business Profile
In order for a business to properly manage its information, a representative of the business must first create and verify a Google Business Profile. This last step may require knowing a PIN that Google sends out via mail in order to ensure only those with the right access can access the account. Once verified, you can begin to update the GBP account with extra important information and media. If you need help with this process, please don't hesitate to contact Caorda for assistance.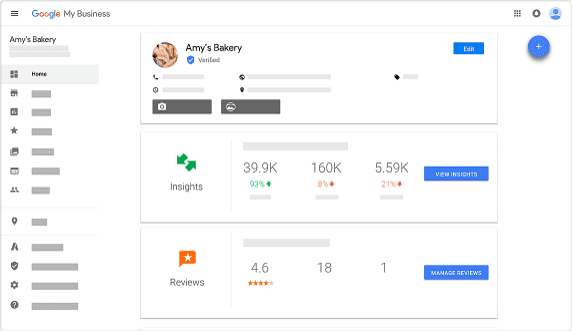 The Bottom Line on Business Profile Pages
Whether we know it or not, every one of us has seen results that use information from Google Business pages. It is your most important profile on the internet, without a doubt, if you are a local brick-and-mortar business. It's also important for web-based businesses, but less so. It's also incredibly important that you keep your information up to date as you will also show for 'local searches' for businesses like yours. If your profile is out of date or hasn't been updated in a long time, Google will drop you from the top results.  Very likely, many of us use this feature without even knowing what it's called. This incredible tool makes it much easier for searchers to quickly find out important business information like business hours, addresses, important announcements, recent feedback, and more. Ensuring that your business engages and stays active with your business profile will also ensure that anyone searching for your business will have this information readily available.
Caorda Can Help
Activating and managing a Google Business Profile takes time and effort. Contact one of our Digital Marketing specialists to talk about your business's Business profile today. We'd be happy to help in any way we can!