New Easter Seals 24 Hour Challenge Websites
The new Easter Seals 24 Hour Camp Challenge website is here!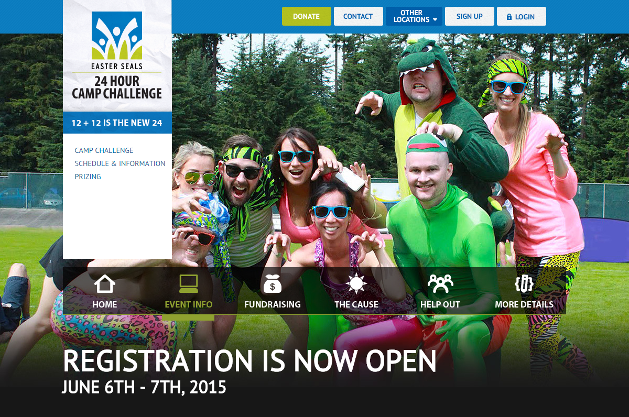 The Easter Seals 24 Hour Camp Challenge runs from JUNE 6-7, 2015 @ Easter Seals Camp Shawnigan & JUNE 13-14, 2015 @ Easter Seals Camp Squamish
The 24 Hour challenge for 2015 has been broken into 12 hours of competitive and fun camp challenges plus 12 hours of glow-in-the-dark and campfire overnight fun.
The 24 hour relay has been going strong for over 35 years and thanks to feedback from participants this year should be even more fun and challenging. Long-standing participants can expect new adventures and challenges that we hope will make this year's camp the best ever.
Here's the information details from the event page:
Challenge yourself on activities like our climbing wall, archery, games in our indoor pool, a soccer skills challenge and our classic volleyball tournament!
Enjoy some live music, sit by a campfire and take an overnight staycation!
Show your stuff at our Master Chef Showdown!
Play your best poker face at our Texas Hold'em Challenge!
This is one event this summer you're not going to want to miss! Campfires and glow-in-the-dark bocce are just the start. You'll party the day away in our indoor swimming pool, on a giant team swing, scavenger hunting and then relax at night in front of an outdoor movie screen, a campfire and at our beer garden. Plus, you're getting a taste of just what your valuable fundraising provides: unforgettable camp experiences to children throughout the Province.
You can get more details by visiting the website: www.24hourcampchallenge.com