We can all agree that 2020 was a year of, well, let's just say it wasn't awesome. With all the craziness in the world, most people are looking for some light at the end of the tunnel and something to look forward to in the new year.
Pantone has just released their two colours of the year, which every year is highly anticipated by designers around the world. In contrast to 2020's Classic Blue, this time it is a bright optimistic and hopeful shade of yellow named "Illuminating – Pantone 12-0647", paired with a stone grey "Ultimate Gray 17-5104". Exactly what we all need for 2021! I am looking forward to seeing how designers bring these pops of yellow into their designs this coming year. My hope is that these colours can see us all out of 2020 and into 2021 with a bright face towards the future in this changing world of ours.
Why does colour matter so much?
Colour has a natural effect on how you feel and has a long history of influencing people's moods, including aggression, happiness or sadness. Colour therapists use colour to help treat depression and anxiety, among other things. Yellow is often thought to bring energy and encourage action and can also make you feel happier.
How to use this bright yellow in your daily life?
Put away some of your darker tones this new year, and bring a few pops of colour into your home or office. Grab a yellow pillow, a mug, an art piece, or even a new chair. If that's not your thing you can even try a wardrobe item or accessory, and bring on that sunshine. Just make sure you use it sparingly.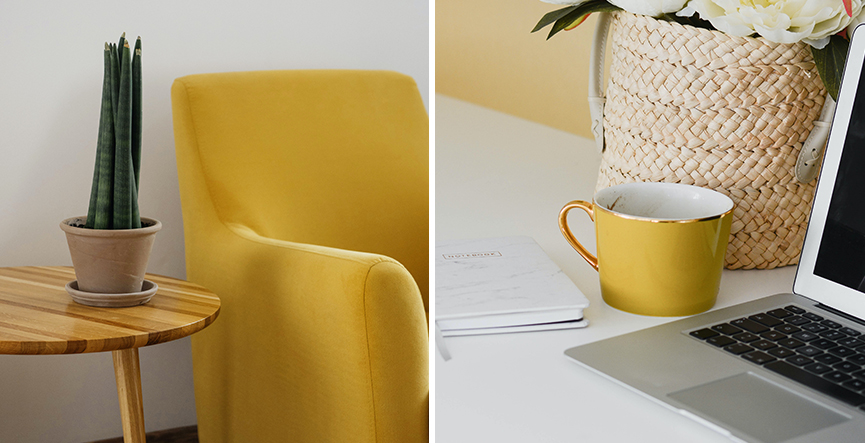 Every year I look forward to seeing what Pantone's new colour of the year is, and I think Pantone nailed it. I may be a little biased as yellow just so happens to be my favourite colour, but I think we can all agree, we needed some illumination for the coming year.
Why Wait? Get a headstart.
Are you looking to add a little splash of illumination to your website? Thinking of a branding refresh or an update to a logo that's lost its lustre? Our design team is a very accomplished collective of branding and website design specialists that would love to help you incorporate some of the newer colours into your business.