Did you know?
In addition to providing top-notch website, software and mobile app design, Caorda also provides a wide variety of graphic design services, from print design to logo design and end-to-end brand identity development. Because we specialize in digital media, a lot of our contacts are surprised to learn that we regularly provide our clients with unique physical graphic design products, from wallpaper, to window clings, to coffee mugs, to pizza boxes, to coasters, to apparel design, to shelf talkers, to gift cards and more. Whether you already possess a polished, professional company brand (a logo, along with a complete with a strict set of colours and typefaces used across all of your marketing) or whether you need help from us in creating your brand from the ground up, or just bringing it into the 21st century, we can assist with everything that goes along with it, and with all your future graphic design needs.
Graphic Design is a foundation of our suite of Digital Services
Graphic design is one of the major components of every Caorda project. The term graphic design is often used synonymously with "print design" or "desktop publishing", but it's really the hierarchical area of work that touches everything our team produces. Graphic design not only encompasses printed media like business cards and stationery, but also apparel design, merchandise/product/collateral design, and all digital media from websites, to mobile apps, to digital marketing like Google Ads and Facebook Ads. We love the creative mix of work we produce, and we are always thrilled to take on new challenges.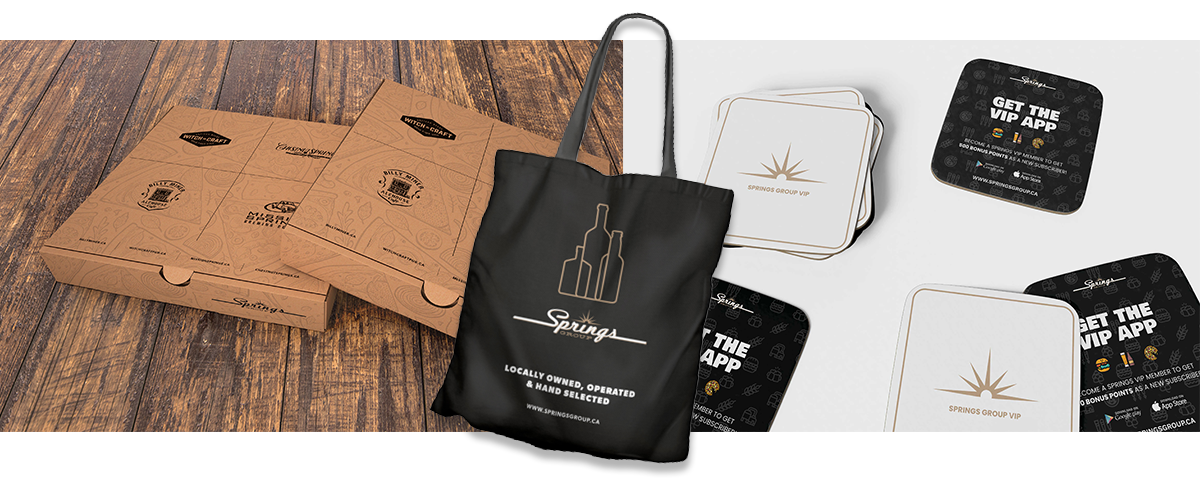 From your napkin sketch to the digital universe, we do that!
We love evolving new ideas into professionally branded marketing pieces. Whether your design piece be displayed on a lapel pin or a billboard, we ensure that it will represent your company to the best of its ability. We carefully study the market and environment where each design piece will be in use. Need some classroom handouts? A trade show banner? A flyer providing an important pop of colour in a dark shop corner? A stylish pen for your clients to hold while they sign official documents? A classy mug or key chain to hand out to new customers? We've seen it all, we do it all. Bring it on!

Blueprints for a successful brand
If you're a new business on the brink of developing your brand, this is the perfect time to brainstorm the various applications in which your logo, company colours and fonts might be used over time. Most startups tend to want a few basics to get started, such as a letterhead, matching envelope and business cards, but we can suggest several other ideas that will give you a solid start. Do you already have a logo? Are your marketing materials growing tired-looking? Are your brand's colours or typefaces looking dated? All major companies do periodically refresh their brand. We are passionate about shaping brands, and can help you with all of it.
More about logo design/redesign
Size doesn't matter. Versatility does. If you are in need a new logo, or if you are seeking a complete rebrand, before your project gets underway it's always smart to envision the wide range of sizes and shapes at which your logo will need to be recognizable. If you have a text-based logo (often called a wordmark), how do you envision representing your brand at small sizes? Is it long and wordy? How might you symbolize it as a circular social media icon? Will it fit on one-inch sticker, or along the side of a ballpoint pen? If your logo doesn't include some kind of graphic or emblem, will you rely on simplifying it to a single letter or two at small sizes? And will your particular font be readable at small sizes? If it's already circular or square, do you have a horizontal version that would allow better readability in a website header or footer? Many companies have at least two official layouts for their logo these days: horizontal and stacked. It's also common to include icon design to the mix when crafting your brand.


The tools of the trade
After our designers have worked with you to create pixel-perfect designs to suit your needs, they can either manage the details with a local print shop on your behalf, or they can provide you with print-ready artwork that follows the guidelines provided by any print shop of your choosing, and then you can take over the rest. The bulk of the print projects we handle involve a few emails back and forth between the designer and print shop, just to make sure all the details are clearly understood. If you don't know much about document sizes, file types, vector artwork, margins, DPI (dots per inch), CMYK vs RGB colour spectrum, full-colour bleeds, and crop marks, then there will be a learning curve if you handle it on your own. We're always here to help answer questions!

Whoever you are, we're here for you!
Are you a restaurant with an existing brand and web presence, but need some t-shirts, aprons, hats and name badges for your staff members? Are you a business consultant teaching a seminar in three weeks, who just remembered you don't have take-home materials ready for your attendees? Are you the owner of an auto repair shop needing a series of magazine ads and brochures? Are you a yoga instructor needing a new tent sign for the sidewalk in front of your shop? Are you a financial institution looking for a brand upgrade, as well as a new set of business cards for your employees? Whoever you are, we're here for you! Just give us a ring. We look forward to working with you on your next graphic design project!