Does your business rely on organizing events for courses, music, networking or any other social gathering? If so, then now more than ever you need to ensure your Event Schema is perfect. Why? Because Google is putting some emphasis on helping businesses develop events virtually via live streaming or pre-recorded video. On March 17, Google added more features to Events Schema in the wake of the pandemic. Google has also been warning websites with broken (or missing) event data using Google Search Console notifications. This is a warning sign that they are paying closer attention to events in the search results given what's happening right now around the world. We are moving inside and events are moving online!
In a recent Think With Google newsletter, they offered this feedback:
If you've decided that hosting a virtual event is the way to go, make sure you make the most of the tools at your disposal. Need some help? Check out our downloadable guide to making videos and hosting events on YouTube, complete with links to many more resources and video tutorials.
NEW: Brand new guide from Google. Download it here: Taking Your Events Online
But, what is Schema?!
I could spend a good (herculean) amount of time digging in to what schema is, that's for another article or series of articles. In a nutshell, schema comes in many flavours and is also referred to as rich data, microformats, structured data, structured markup, and a host of other nerdy, technical words. 
Here's a relatively accessible intro to structured data directly from Google: https://developers.google.com/search/docs/guides/intro-structured-data
Schema is a very organized bit of code that sits on your website. It describes specific types of content (and businesses) in an extremely categorized and explicit way following a set of rules that are clearly defined. Everyone is on a level playing field, but not everyone is deploying schema effectively. Here's an article on schema that we wrote in 2014.
You see schema in Google results everywhere
Search for any recipe in Google and you'll see a whole host of 'marked up' results. These are search results with additional information in the search result snippet; more than you'd see for a normal web page result.
In this example for lentil soup recipe, you can see the top row of results are all recipes from the websites of Gimme Some Oven, Allrecipes and Food Network. This unique snippet also contains information about reviews and even some ingredients. However, can you see one vital piece of info that is missing from one of the results? You got it, the cooking time! The All Recipes result is missing the cooking time because they are likely using incomplete Schema.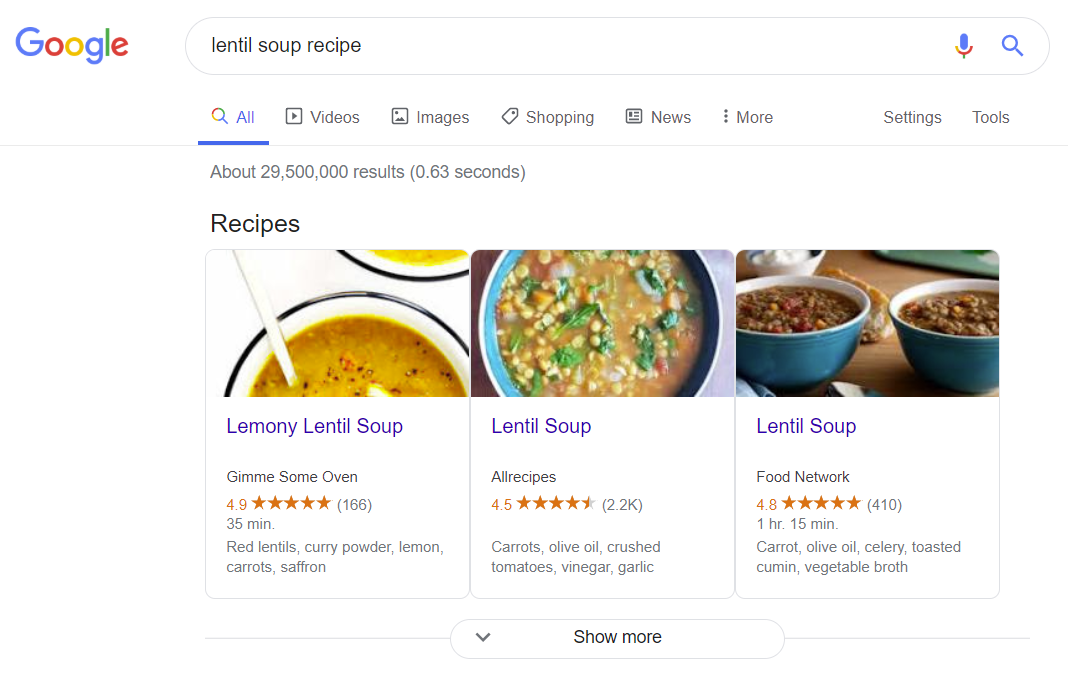 Okay, but what about events?!
Right, events. With the COVID-19 pandemic in full force and no end in sight, many of us still need to develop ways to maintain our services and offerings. With business closing and blanket cancellations of every event of over, well, 2 people, everything is moving online in some way. This is especially important regarding events. A large number of companies are taking their events online. Google knows this and are trying to help companies do just that. 
Google Search Console has been sending out warnings to websites with missing, incomplete or incorrect Event Schema website code. Caorda has seen several arrive recently from clients that we monitor on their behalf. Here is an example: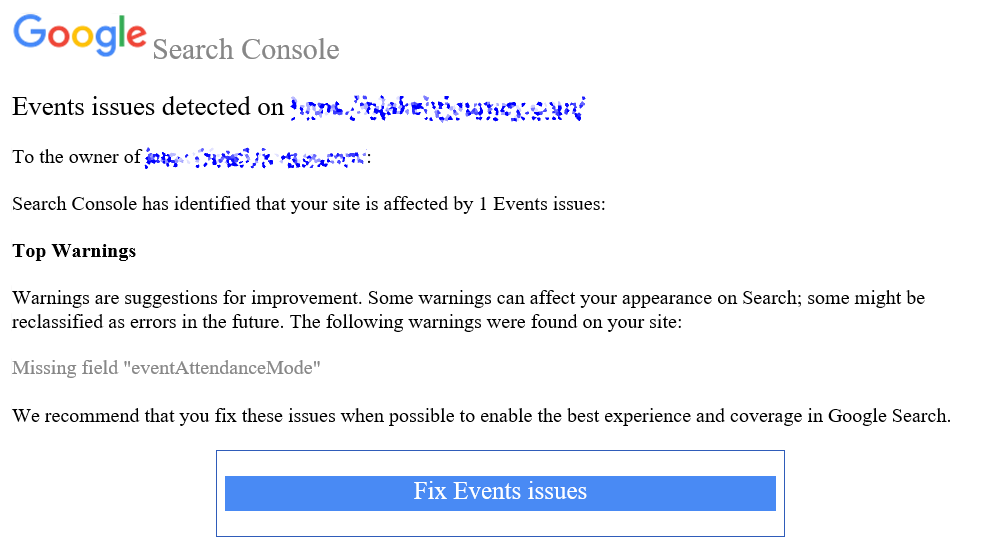 As we saw in the recipe example earlier, not everyone is delivering Schema in its entirety. This is where other websites can get a leg up by delivering their structured data using every possible piece of information that their Schema Type will allow. There are required items but there are always optional items that can help your listing stand out from the rest. They do the bare minimum, you go the extra mile. To Google, these are higher quality listings and so will get a ranking bump.
Here's an example of an events listing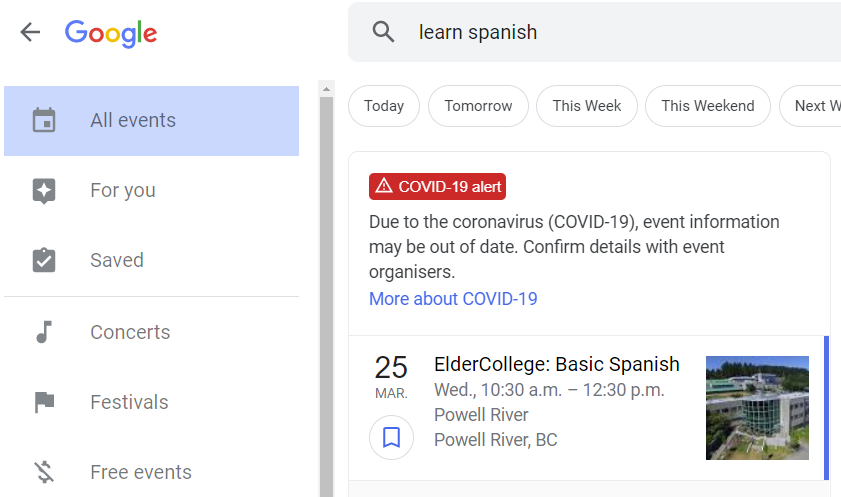 If you rely on events as part of your business and are looking for a way to improve your listings, you'll want to make sure that your Event Schema is absolutely perfect.
Test your schema right here. Make sure to copy the URL of an event page, not the event list or your homepage. Pay attention to the warnings, it's likely most websites are missing these new optional items. Did you see any errors or warnings? These need to be corrected as soon as possible to ensure you are sending Google perfect information. Remember, it's the websites that include everything, including the optional information that stand a better chance of having their 'richly marked up' event pages showing up in Google Searches.
Our team is extremely adept at building correct rich data markup for our clients and would love to help you as well.